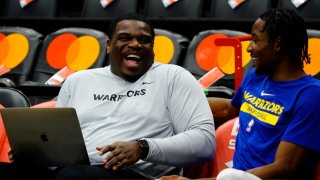 SAN FRANCISCO -- Lying in a Houston hospital bed seven years ago, Anthony Vereen knew his world was about to change.
The then-30-year-old's playing career already was nearing its last legs. He expected to play his second stint in China after finishing two seasons in Santa Cruz with the Warriors' G League affiliate, but he never made it back overseas.
Doctors found blood clots in both of his lungs, forcing him to immediately retire. At least from his playing days.
Athletes are lucky to go out on their own, fade off into the sunset and choose retirement. Vereen wasn't part of that fortunate few. Retirement chose Vereen.
"I'm a religious man. I prayed," Vereen told NBC Sports Bay Area. "I said, 'Man, I need guidance. What's the next step? I don't know what to do. I love the game, but I'm not going to play.' "
The next step was coaching, and the guidance came from Ryan Atkinson – then the Santa Cruz Warriors' assistant general manager and now the Warriors' director of team development. Atkinson called Vereen as he looked for help from powers near and far, and convinced him why he believed moving to the sideline was a perfect fit for the 6-foot-7 southpaw.
"I felt like he chose me, and I've been doing it ever since," Vereen said.
Vereen officially joined Santa Cruz's coaching staff as a coaching coordinator for the 2017-18 season, and he just finished his first full season on Golden State's staff as a player development coach. Coaching is in his blood, too.
Coaching roots run deep
Vereen's love of the game comes from a combination of his father, Anthony, and his uncle, Ray. The elder Anthony was a standout defensive back at Southeastern Louisiana University and a ninth-round pick by the Kansas City Chiefs in the 1981 NFL Draft. Vereen's uncle, Ronald Ray Cox, spent his life coaching basketball at the high school and college levels, including eight as an assistant at SELU.
Cox played college basketball at McNeese State, where he spent two seasons sharing the court with future Basketball Hall of Famer Joe Dumars. Cox also was the first to put Vereen in a basketball camp, and at 6 years old, a spark lit that isn't going out anytime soon. Cox died on July 20, 2022, at 56 years old after years of battling an illness.
"It's kind of poetic, I think, that I'm a coach now trying to do the same thing that he did for me for other guys," Vereen said.
Aaron Miles (now a New Orleans Pelicans assistant coach) served as Santa Cruz's head coach when Vereen began his new career. Kris Weems, whom sources told NBC Sports Bay Area's Monte Poole will be promoted from player development coach to replacing Jama Mahlalela as a front-bench assistant, was next for two seasons before Seth Cooper took over the last two seasons.
Vereen didn't hide his passion as a player, from his prep days to his four years of college at UT Arlington and his multi-country pro career. That passion still is seen at times on the bench, and for Warriors assistant Jacob Rubin, Vereen was an introduction to coaching players such as Draymond Green and DeMarcus Cousins.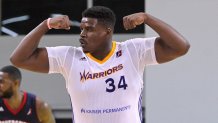 Cooper gave Vereen the major defensive responsibilities, and saw the quality he brings most right away in training camp ahead of the 2021-22 NBA G League season. He cares, even to a fault.
On the first day of defensive installments, Cooper kept it simple, going over some principles and shell defense. So, he set aside 15 minutes for Vereen to run that segment. The segment instead lasted 35 minutes.
"Afterward, he was all, 'I'm sorry, so sorry Seth,' " Cooper said. "It was all stuff we needed to get in, and none of it I ever felt like was a way that the players were bored or lost -- it was still very engaging. But after that, we would kind of get on him about how much time he needed for some of his stuff, and he was just so passionate about it."
What Cooper saw that season was all the different ways Vereen can impact a game and contribute to winning. It might be X's and O's and in-game adjustments. It also might be mentoring, leading and helping players reach their potential through their mindset. It was even felt in the way Vereen collected fine money.
Pretty much every team has their own fine system. Money can be collected for being late to practice or the bus, and that can be a touchy subject for some people, but there never were hard feelings with how Vereen handled. Players were held accountable, yet everybody was all in, and Vereen found a way to make the punishment a fun bonding time for everybody.
How? He collected the money, and everybody else had a chance to shoot from halfcourt for it. That act sounds simple, though the way Vereen went about it was another example of him bridging the gap for light or heavy situations down the road.
Guiding the youngsters
When Warriors coach Steve Kerr first asked Cooper about elevating Vereen to Golden State's staff, it was a no-brainer. In fact, Cooper and Santa Cruz GM David Fatoki already had discussed the idea.
Kerr, of course, was well-versed in Vereen's basketball background. He knew about Vereen's time at UT Arlington, where he finished as the school's second-leading all-time scorer (1,447 points), averaged 17.7 points per game as a senior, and led the Mavericks to their first-ever NCAA Tournament trip during his junior year. Kerr knew about Vereen's four-year G League career, during which he spent two seasons in Santa Cruz, one in Oklahoma City and one with the Texas Legends. Kerr even knew about Vereen's international career, which included stops in Spain, Finland and China.
All of that was secondary.
Basketball experience and basketball knowledge are only one slice of making a successful coach whole. Being able to communicate and have an innate personal touch exceeds calling plays and running drills, and like the many players Vereen has pushed to new heights, that's why Kerr wanted to be around him more and knew his team only would benefit from the promotion.
"It's probably the most important thing," Kerr said. "Because you know, basketball is basketball. There are going to be some coaches who see the game better than others, but in general, this isn't rocket science. There's a few different ways to guard pick-and-roll, and let's pick one of them. You get to know patterns in the NBA, you see things. Everything that we do X's and O's wise is a collaboration anyway.
"And for sure, there's different levels of understanding, and the more you're in this league, the more you learn, but the No. 1 priority for all of our coaches on our staff is the ability to connect and communicate, because that's what teaching is."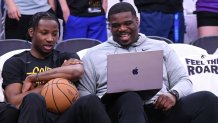 During games, Vereen can be seen in the second row of the Warriors' bench interacting with players of all ages. His main responsibility, however, is working daily alongside the Warriors' youngsters and keeping them engaged -- one handshake at a time.
It's something he did as a player, and it's Vereen's little way of still feeling like a player ever since that option was taken away from him. Nearly every Warrior is given a signature handshake from Vereen, and each is specific to the player. For instance, Patrick Baldwin Jr. -- who was traded to the Washington Wizards on the night of the 2023 NBA Draft -- received a handshake that was a play on his initials. They'd do Vereen's go-to "two for the bigs," and then spread it like a sandwich.
"His voice is always heard," Baldwin said. "He's like Jiminy Cricket, the voice of good for us. He's good at judging people just based off their demeanor, how they're coming to the bench, and he's going to give them what they need. If I ever come out, I may miss one or two shots. AV's behind me like, 'Next one's in, you got good rotation and go check the box. Next one's gonna fall.' It's like boom, I'm good."
Vereen and Warriors guard Moses Moody have ongoing Southern bragging rights. Moody is from Little Rock, Ark., and starred at Arkansas for one season before being a Warriors lottery pick. Vereen originally is from Hammond, La., and although he went to college in Texas, he still reps his Louisiana roots through and through.
"We just go fronthand, backhand, and then throw up Little Rock because that's where I'm from," Moody said. "We always argue back and forth, because he's from Louisiana. We're both from the South, so which one's better: Arkansas or Louisiana? Arkansas versus LSU -- we always have those discussions.
"Yeah, that's my guy."
No Warriors player works closer with Vereen than Jonathan Kuminga. The 20-year-old admittedly couldn't match Vereen's energy level when Kuminga first met him as a teenager. Kuminga didn't know how to read the coach at first. Then Kuminga quickly saw the consistency Vereen brought every single day, whether the young Warriors forward was having a great day or feeling down. Vereen also advised Warriors veterans such as Draymond Green on how to build a relationship with Kuminga.
On the court, Vereen has given Kuminga the tools to open up as a playmaker. He has pushed the importance of running the floor and being productive while not boxing him in. Kuminga has so many different talents, and continues learning how to use them, but at 18 years old when the Warriors drafted him, Kuminga needed more than another person rolling a ball to him and seeing him solely as an athlete.
"He puts people in place," Kuminga said. "He keeps you in a positive energy. I think that's what you really need out of somebody. He's real. He's not going to lie to you, and if he doesn't know everything, he will let you know 'I don't know.' He's always there.
"He's always going to have that energy. It doesn't matter. Whatever you tell him, he's going to have that same energy. And that's when I realized he's one of the realest people I've ever met, especially in basketball. He's like a big brother, man, just working with him every day.
"I'm a human being, and my spirit is not always going to be there. Just him being there every single day, and every time I need to get in the gym, he's always there. You can sit down and just talk life, not just basketball-related, but life. That's something that you really need around."
As with Moody and Baldwin, Kuminga's handshake is incredibly individualized. Vereen took a page out of the movies "Coming to America" and "Black Panther" for Kuminga, a native of the Democratic Republic of the Congo.
"He always thinks he's the King of Zamunda, like he's King Zamunda," Kuminga said. "So, at the end of the handshake, we cross arms, like a Wakanda type of thing. Yeah, he always says he's the King of Zamunda, and he always tells me I'm the Prince of Wakanda."
Kuminga isn't part of one handshake club, by his decision. He isn't here for Vereen's beloved "two for the bigs" handshake.
Kuminga's reason is why his potential is monumental, and why the Warriors still need him to take the proper steps to reach that high of a ceiling.
"Nah, because I play everything," he said.
The big man, in ways, has been diminished in the modern NBA. Being labeled as a center is a curse word to some. Others even make sure they're listed shorter than they really are -- a giant change from not too long ago.
But Vereen is here to make sure the Warriors' big men -- often overlooked and plenty of times counted on to do highly important little things in the game -- feel the love.
They have big-man dinners together, and even shirts. Vereen promises there's more merchandise for the movement on the way. The "two for the bigs" handshake is exactly what it sounds like: Short, sweet and gets the job done. It doesn't look like much, and isn't the most creative.
But the two taps hold a special place inside of Vereen.
"We really want you to embrace being a big, because it's a thankless job at times," Vereen said. "We love it, that we can help this team. The shooters, they get the love and credit. But the big man does the dirty work. I love that. Two for the bigs!"
The winning formula
Kerr called making Vereen an integral part of the Warriors' coaching staff a "brilliant" addition, because of his energy, humor and natural gift of deeply connecting. Unfortunately, for now, the two don't have a special handshake quite yet.
To Kerr, whenever he sees Vereen's smile widen as he gears up for a one-two step of hands going this way and that, it's only a reminder of something every great coach and every great franchise needs.
"He's not afraid to laugh at himself, which is great," Kerr said. "That's one of the best qualities to have -- the ability to laugh at oneself and bring joy to the room, because that same ability allows AV to speak the harsh truth to players sometimes. In order to really teach and coach, you have to connect. So, part of the ways he connects is with his great sense of humor and not only his ability but his joy in making himself the butt of the joke.
"Everyone loves being around a person like that."
Warriors players and coaches threw around a handful of words to describe Vereen's personality and coaching style. His care, his fire, his competitiveness and his desire to make others better never go unnoticed within Chase Center. Maybe his most noticeable trait can be boiled down to one word: Positivity.
But positivity is only part of the Anthony Vereen package. That word also can erase so much of what he demands of others and the realness Kuminga gravitated to in their growing bond. The moment the word even was uttered to Moody, he decided to use one more powerful. That word is "authentic," and it's the only way Vereen knows how to live. A player, a coach, a referee and a food vendor all are going to get everything he has -- the one true version of himself when he walks into an arena.
"It means everything, because when you can be real with a guy and you can reach them on that level, you have a better chance of them buying into what you're saying," Vereen said when told of Moody's preference. "When you get buy-in, you can help these guys so much more than somebody that they don't trust. Trust is a big thing. In sports, you got to trust your teammates to help you. You got to trust that your coaches are giving you the right advice to help.
"For them to feel that what I'm saying is real and I'm passionate about it, that means the world to me, and that's something I hope I keep for the rest of my career."
Basketball was taken away from Vereen, and the Warriors gave it back to him as a teacher, a mentor and a coach. In return, he's fulfilling the path first paved by his father and uncle -- one authentic drill, conversation and handshake at a time.