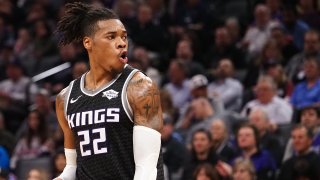 SACRAMENTO -- Kings fans are on a roller coaster of epic proportions. After an eight-game losing streak, they were in no mood to see their team fall behind by 20 points in the first quarter to the Memphis Grizzlies on Thursday night, so they booed loudly.
When the Kings began turning things around in the second quarter, the disapproval turned into a smattering of cheers, then a dull roar and then a standing ovation.
There were plenty of players that brought passion and energy to the court for Sacramento, but Richaun Holmes always seems to set the bar for the Kings. Fans were so appreciative of the 26-year-old center's efforts that they began chanting, "MVP-MVP-MVP."
"It was great, that's not something I've experienced," Holmes said of the fan reaction. "To have the fans get behind me like that, that's love, I appreciate it, I appreciate it."
Holmes quickly has become a favorite with the fans. After signing a two-year, $10 million deal in the offseason to back up Dewayne Dedmon, Holmes needed just four games to supplant the veteran in the starting lineup.
"He has been an anchor for us," coach Luke Walton said. "He plays with that passion and fire that I think the Sacramento fan base really gets behind because he just leaves it all out there when he plays."
The fifth-year pro finished the night with 18 points on 7-of-10 shooting. He added seven rebounds and a pair of blocks in 34 minutes of action.
"Richaun just screening and diving hard from his position, he's a very mobile big," Buddy Hield said. "He's able to run the floor, get up and down -- he suits us well."
After bouncing around the league, Holmes has found the perfect situation and flourished. He's averaging career-highs in points, rebounds, steals, blocks and minutes played and only seems to be getting better.
[RELATED: What we learned as Kings snap an eight-game losing streak]
The Kings' first 35 games of the 2019-20 season have been disappointing, but Holmes has been a bright spot. He might not be in the MVP discussion, but there's no question he has been the Kings' most valuable and consistent player this season.