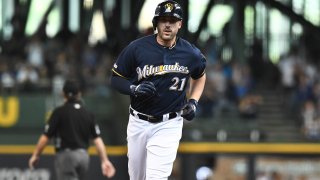 The A's non-tendered veterans Blake Treinen, Ryan Buchter, and Josh Phegley Monday night ahead of MLB's non-tender deadline. They weren't the only team making moves.
Throughout the league, a total of 56 players were non-tendered and became free agents. Here are three of those players the A's could potentially target this offseason:
Travis Shaw
Shaw struggled last season with the Brewers but was phenomenal in his previous two years. The 29-year-old infielder posted an OPS of .862 in 2017 with 31 home runs and 101 RBI. He was nearly as good in 2018, with 32 homers, 85 RBI and an .825 OPS.
Last season, however, Shaw plummeted to a .551 OPS, hitting just seven homers in 86 games. Still, he has a career slash line of .243/.327/.451, averaging 27 homers and 85 RBI per 162 games.
Most importantly, Shaw bats left-handed and can play second base, two attributes the A's highly desire at the moment. He's also affordable, with a projected a $4.7 million salary in arbitration before Monday's non-tender. At that price, Shaw could be worth a flier.
Junior Guerra
Guerra is another interesting target who was non-tendered by the Brewers. The right-hander pitched an NL-leading 83 2/3 innings out of the bullpen last season after spending the previous three years as a starter. He went 9-5 with three saves and a 3.55 ERA, notching 77 strikeouts against 36 walks.
In five major league seasons, Guerra is 25-21 with a 3.81 ERA. He features a three-pitch mix, with a mid-90s fastball, a low-80s changeup, and a mid-80s splitter.
Guerra was projected to get $3.5 million in arbitration, a fair price to pay for a true workhorse reliever.
[RELATED: How moves affect A's 2020 roster]
Yimi Garcia
Garcia represents another potential right-handed relief target. The 29-year-old recorded a 3.61 ERA and 0.87 WHIP in 64 appearances with the Dodgers last season, striking out 66 batters in 62 1/3 innings, compared to just 14 walks.
Garcia has spent his entire five-year career with the Dodgers, maintaining a 3.66 ERA and 0.99 WHIP. He mixes a mid-90s fastball with a slider, cutter, and changeup, resulting in an impressive 5.53 strikeout-to-walk ratio throughout his career.
Garcia was only projected to receive $1.1 million in arbitration, which would be a bargain.