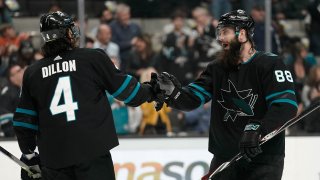 If the Sharks are going to make a big move at the trade deadline, it's going to involve one of their defensemen. While there are numerous forwards who could get traded elsewhere, like Melker Karlsson, Joe Thornton and Patrick Marleau, they're not going to bring back the kind of return that will significantly expedite a rebuild. Timo Meier is the lone exception, but San Jose would have to be blown away with an offer to move on from the talented 23-year-old, and even then, it's not certain general manager Doug Wilson would elect to do so.
So, if the Sharks are going to beef up their roster for the future, it likely will involve taking a step back in the present, with a prominent defenseman on his way out. Luckily for San Jose, one could argue the price just went up for one of their skilled blueliners due to several injuries across the league.
Just in the last week, the Columbus Blue Jackets lost defenseman Seth Jones (ankle fracture surgery) for the next eight to 10 weeks, the Montreal Canadiens lost defenseman Shea Weber (sprained left ankle) for the next four to six and St. Louis Blues defenseman Jay Bouwmeester endured an extremely scary cardiac episode. Bouwmeester was said to be "doing very well" after undergoing tests Wednesday, but there is no word on if or when he will be able to return to the ice.
St. Louis currently sits in first place in the Western Conference. The Blue Jackets occupy the first wild-card spot in the East, and Montreal trails the second one by eight points. This is to say, all three teams suddenly have both a need and the motivation to go out and acquire a defenseman. Depending on what kind of player they're looking for, the Sharks might be their best place to shop.
Of all the players on San Jose's roster, defenseman Brenden Dillon is the most likely to be traded. His sound positioning and extremely physical demeanor are the kind of traits playoff teams are looking for, and as a pending unrestricted free agent, the Sharks have every reason to try to get something for him. If Bouwmeester has a lengthy absence or is unable to return this season, Dillon -- who also is a left-handed shot -- could make a lot of sense for the reigning Stanley Cup champions. Even if that's not the right fit for Dillon, though, he is still all but assured to be playing for someone other than San Jose after the deadline.
While Montreal and Columbus also would have use for Dillon, there's a chance they might be more interested in a different Sharks defenseman.
Even before Weber went down, the Canadiens reportedly were looking to acquire a top left-side defenseman as far back as October. Marc-Edouard Vlasic has spent his entire career in San Jose, but he's originally from Montreal and has been Weber's regular defensive partner in international competition with the Canadian national team. Vlasic and Weber are very different players, but clearly, there's reason why the Canadiens might have interest. Vlasic has a full no-movement clause through the 2022-23 season and a modified no-trade clause for the three seasons after that, but if there's any destination he would be willing to waive that for, might it be his hometown?
From a similarity perspective, Brent Burns' playing style is far more akin to Weber's than Vlasic's is. If the Canadiens aren't confident Weber will be able to return within the expected timetable, or won't be his usual self if and when he does, they could do a whole lot worse than Burns. Of course, it's not that simple. Burns has a modified no-trade clause through the 2024-25 season, so he has a significant say in where he wants to play. He also carries an $8 million cap hit per season for the duration of his contract, so the money could prove to be an additional hurdle. That said, of all the teams in the league, Montreal has the eighth-most projected cap space remaining this season, according to CapFriendly, so they could afford to put him on the books.
You know who has more projected cap space than Montreal? That would be the Blue Jackets, who rank fourth in that category according to CapFriendly. Jones is one of their two best defensemen, and now they could be without him for the remainder of the regular season, if not longer. Like Burns, Jones plays on the right side and leads his team in average ice time per game. Burns not only could perfectly slot in for Jones, but also would make Columbus a more formidable opponent down the backstretch and into the postseason. Not to mention, he could provide a much-needed veteran presence for the second-youngest team in the league.
While the Blue Jackets have the available cap space to realistically make a deal for Burns, there are a couple of potential issues that might rule out such a move.
For one, Burns would have to waive his modified NTC, and Columbus isn't exactly a traditional hockey hotbed. Then again, one could say the same thing about San Jose. Additionally, the Blue Jackets might not have what the Sharks would be looking for in return for Burns. Columbus does not own a second or third-round pick in the upcoming 2020 NHL Draft, and it's prospect pool recently was ranked dead last in the NHL. When and if San Jose ever moves on from Burns, you can be sure they'll be looking for talented, young and controllable assets in return.
[RELATED: Merkley leads Sharks' No. 25 ranked prospect pool in NHL]
Of Dillon, Burns and Vlasic, Dillon is far and away the most likely Sharks defenseman to go. But with the recent injuries around the league, one could argue there now is a greater demand for each of them. With more teams potentially engaging in a bidding war, the Sharks might be able to get a considerably larger haul than they would have just a week ago.