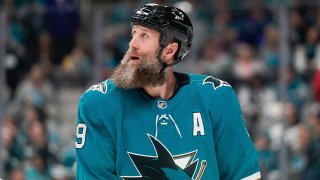 The looming NHL trade deadline already has been an emotional one for the Sharks this season after they shipped defenseman Brenden Dillon to Washington Capitals. But emotions could reach a whole new level soon. 
All eyes are on the Sharks possibly dealing franchise legend Joe Thornton before Monday's noon PT deadline. San Jose (26-30-4) entered Saturday with the third-worst record in the Western Conference, and could look to help Thornton finally win a Stanley Cup Final. 
It sounds like Thornton could be tempted to join a contender in his 22nd NHL season, too. 
"You know, it is (tempting)," Thornton said Saturday morning to The Athletic's Kevin Kurz. 
Boston Hockey Now's Jimmy Murphy reported Friday that the Bruins are considering a trade for Thornton, who spent his first seven-and-a-half seasons in New England before the Sharks acquired him in November 2005.
A source also mentioned to Murphy that the Colorado Avalanche, Tampa Bay Lightning, Dallas Stars and Pittsburgh Penguins as possible destinations for the Sharks center. 
One thing is for certain: Thornton says this won't be his last season in the NHL. 
"It's not like I feel like this is my last year," Thornton told Kurz. "I feel like I'm healthy, I feel like I still have a lot in the tank left. It's not like a last-hurrah-type thing. I feel good, and my mind feels great. It's not like, 'Oh, this is going to be my last shot at it.' So that's where my mind is at right now."
Thornton is in his 15th season with the Sharks. He is the NHL's active leader in points (1,503) and currently ranks 14th in league history in that category. Thornton also is the Sharks' all-time assists leader with 803. 
[RELATED: Everything Sharks fans need to know before trade deadline]
Simply put, Thornton is an icon in San Jose. If he were to be dealt this season and believes he still has more in the tank, Thornton wouldn't be opposed to returning to the Sharks for the 2020-21 season. 
"That could be an option," Thornton said to Kurz. "There's lots to play with. It is what it is, and we'll see what happens. I'm a Shark now, and I love being a Shark."
No matter what winds up happening, there's no doubt the next few days will be emotional in San Jose.
Programming Note: The "2020 NHL Trade Deadline Show" is coming your way this Monday, Feb. 24 at 11:30 a.m. on the MyTeams app and on NBCSportsBayArea.com! How will the Sharks be impacted heading into the Noon deadline? Don't miss it!