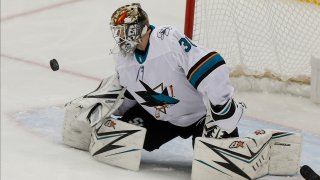 The Sharks were supposed to have a relatively simple goaltending tandem entering this season. Martin Jones would continue as the starter, with Aaron Dell serving as the very capable backup.  
So long as the Sharks could be predictable without the puck, everything would be fine.
But now more than halfway through the regular season, there are a lot more complications and questions than clear-cut answers. So, how exactly do we describe San Jose's current goalie situation with Jones and Dell?
Let's first establish every possible definition, and then evaluate where the Sharks have been.
A conversation: When the goalie playing less is earning more opportunities.
A competition: No clear-cut No. 1, auditions are on full display.
A controversy: The goalie playing less is playing better, but not playing more.
A conundrum: Both goalies not playing well, with no obvious alternatives.
A combination: Your No. 1 is playing like it, and your No. 2 is playing as such.
Which brings us to the Sharks' backstory. Most of last year's regular season was the combination scenario, with no questions of roles. Jones had the better campaign, and even after struggling in the first round of the playoffs, Pete DeBoer stuck with his starter and was handsomely rewarded in what remained. Martin Jones notably was solid for 17 of the 20 postseason games.
But the current season told a different story for San Jose's tandem.  Especially during a four-win October and three-win December, we saw serious goalie conundrums and conversations emerge. Often, team defense didn't make either netminder look sterling, but Dell certainly was a known commodity and provided the much-needed avenue to shake things up.
After DeBoer was relieved of his duties on Dec. 11, established roles went out the window, and it turned into a full-fledged goalie competition. As recently as Saturday, interim head coach Bob Boughner clarified as much: 
"I'm not anointing anybody a No. 1 at this point," he said. "I need both of them down the stretch.  And Dell right now, he's winning games for us."
Which brings us to the present, and that last sentence from Boughner.  Without official proclamation, maybe we're actually back to a combination -- just one where Dell is the primary figure. He has allowed no more than three goals in each of his last nine starts and has proven an ability to make big saves, which likely instills the most confidence at this point. He's also getting the prime assignments and opponents.
[RELATED: Sharks' late collapses continue in difficult loss vs. Caps]
Sharks fans haven't endured a midseason changing of the guard in goal for many years now. But this journey through the calendar is different and might require extremes to compensate, whether they are declared official or not.
This, however, is not to suggest San Jose should give up on Jones. This is the first real adversity of his NHL career, and contractual obligations aside, it's only prudent for the Sharks to see if a sidestep could help him take a big step forward.  
Getting back to a goalie controversy with Jones pushing Dell certainly wouldn't be the worst-case scenario this spring.