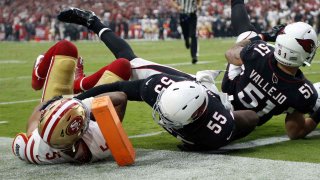 With Trey Lance at quarterback, you can expect the 49ers' offense to go for it on fourth down more often.
That is exactly what they did -- twice -- in the first half of San Francisco's Week 5 matchup against the Arizona Cardinals.
The 49ers' third drive of the game went 93 yards on 13 plays, only to result in a turnover on downs after Lance was stuffed at the goal line.
On the play, Cardinals linebacker Isaiah Simmons was hurt and evaluated for a concussion shortly after.
Stopped short on fourth down on the drive prior, Lance and the 49ers failed to convert on back-to-back drives. Even with Lance's rushing ability, the 49ers need to find a way to convert on fourth-and-short without putting their rookie QB in harm's way.
Fortunately for the 49ers, Lance was OK after the hard hit.