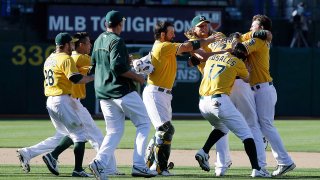 Programming note: NBC Sports California will air three classic A's-Yankees games beginning Saturday at 3 p.m. PT.
Anytime the A's face the New York Yankees, we're about to witness something special. The games become even more special when Oakland comes out on top. Just as they did in three classic games in the past.
18th inning walk-off
One of them, in particular, took place on June 13, 2013.
This one began as a doozy. Robinson Cano blasted a two-run home run in the first inning. The A's and Yankees exchanged blows until the bottom of the … 18th inning when Nate Freiman singled on a line drive to left field to score John Jaso.
Viewers get to relive that.
Manaea's mound dominance
Another exciting matchup between the two teams took place at Yankee Stadium in front of a crowd of over 39,000 on May 26, 2017. Sean Manaea was on the mound for the A's.
The A's scored first, but not until the top of the eighth. 
The night, however, belonged to Manaea, who dominated the Bronx Bombers. 
Across seven shutout frames, he struck out five, gave up four hits and walked just one.
Viewers get to watch this one again as well.
Another KD walk-off
Who doesn't love a good walk-off win in extras? Khris Davis sure does.
In this case, it's on a June evening at the Coliseum in 2017.
Jed Lowrie got things started earlier with a solo shot in the bottom of the first.
[RELATED: Khrush recalls 2016 walk-off grand slam vs. Rangers]
It was a bit of a back-and-forth affair between the A's and Yankees, but Davis made sure to send the Coliseum crowd home happy as a two-run single scored Rajai Davis and Chad Pinder and the party was on. 
Enjoy the trips down memory lane.