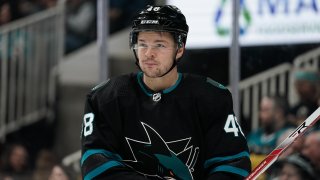 Tomas Hertl's season is over after tearing his ACL and MCL, the Sharks announced Thursday. 
The San Jose forward awkwardly crashed into the boards in Wednesday's loss to the Vancouver Canucks, skating just three shifts in the first period and ultimately not returning to the game.
Hertl was a bright spot in an otherwise dim season for the Sharks, who entered Wednesday nine points behind the Western Conference's second wild-card spot. The 26-year-old Czech forward appeared in his first career NHL All-Star Game this season as an injury replacement for Sharks forward Logan Couture, scoring 36 points (16 goals, 20 assists) in 48 games after scoring a career-high 74 (35 goals, 39 assists) in 77 contests last season. 
[RELATED: How loss to Canucks epitomized Sharks' third-period issue]
Three of Hertl's seven NHL seasons now have been shortened by knee injuries. He had right-knee surgery as a rookie, playing 37 regular-season games before returning for the postseason in 2013-14. Hertl played in 49 games in the 2016-17 season, returning later in the year after undergoing surgery on his sprained right knee in Nov. 2016. He had previously undergone imaging on his right knee after a minor injury earlier this season.
Hertl's left knee appeared to buckle following Wednesday's collision into the boards.
With Couture also on the shelf, the Sharks are now without their top two centers. San Jose (22-26-4) currently is in sixth place in the eight-team Pacific Division with 48 points, and the Sharks' first-round pick this season belongs to the Ottawa Senators as part of the Erik Karlsson trade.