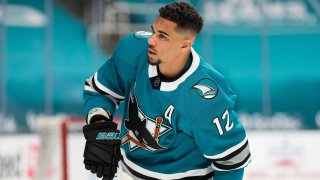 In an exclusive interview with ESPN, Sharks winger Evander Kane addressed the allegations made by his wife in July that claim he had gambled on his own games.
Kane denies the allegations and believes the NHL's investigation will clear him.
"Obviously, incredibly false," Kane told ESPN's Linda Cohn of the allegations made by his estranged wife. "It's unfortunate that that transpired. It's unfortunate that those allegations, false allegations, were made. Obviously, when they happened I understood the magnitude of them immediately not knowing what was going to happen next.
"But I'm confident because I know that's not true, I know none of what she is saying is true, and I was very confident and comfortable with where I was knowing that I was going to be exonerated, am going to be exonerated of those allegations."
Kane told Cohn that he has never bet on an NHL game, a Sharks game, nor has he intentionally tried to lose a game or altered the way he plays to win a bet.
In July, Anna Kane alleged on Instagram that Evander bet on NHL games and had a gambling addiction.
"How does the NHL let a compulsive gambling addict still play when he's obviously throwing games to win money?" she wrote.
The NHL opened an investigation into the allegations on the day they were made. Front Office Sports reported that the NHL has been unable to interview Anna Kane.
NHL Deputy Commissioner Bob Daly told ESPN he expects the matter to be resolved soon and to have a full report before the start of training camp.
Kane admitted to Cohn that he has a gambling addiction and that led to him filing for bankruptcy in January.
"When you have a problem, sometimes you can't control your decision-making at that time," Kane told Cohn. "I think that was an example of my problem getting the better of me. I had a gambling problem. And when you have a gambling problem, just like a drinking problem or a drug problem, sometimes you can't control your actions. I think part of the worst thing that ever happened to me was winning big, because you think you can do it again.
"When you're an athlete, the competitive juices are flowing. And then when you lose, it even bothers you even more. You just keep digging a deeper hole. At the end of the day, it's something that I went through and I'm looking forward to moving [on]."
Kane admitted that he has sought help for his gambling addiction and says that he knows he can no longer continue to gamble.
As for the report that some of Kane's Sharks teammates don't want the 12-year veteran back in San Jose, Kane isn't sold on its veracity.
"I didn't really have a reaction," Kane told Cohn. "The media does what the media does. Certain members of the media [that] feel that they have an ear in the room or unidentified sources really mean nothing to me."
Kane, 30, has four years and $26 million left on his contract.