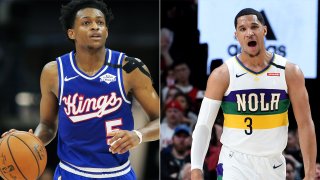 With the NBA's season on indefinite hiatus due to the coronavirus outbreak, players have had to find other ways to fill their time with no games or practices being allowed for the foreseeable future.
Lots of professional athletes have resorted to playing video games, with the Kings' De'Aaron Fox being no exception.
In a recent stream with Fox, New Orleans Pelicans guard Josh Hart and Utah Jazz star Donovan Mitchell, Hart took questions and comments from fans. He read aloud a comment from a Kings fan, which made both Hart and Mitchell chuckle.
Fox was not here for the shade of his team, however.
"Hey man that's not funny," Fox told Hart. 
"Hey man it's all good," Hart responded in jest. "You [are] going to bring the glory days back to Sacramento man, I'm here for it."
Fox then got his own dig in at Hart.
"Hey hold on Donovan, how come Josh acting like he been to the playoffs?" Fox asked while he and Mitchell laughed.
[RELATED: Haberstroh: Inside NBA's decision to cancel Kings-Pelicans]
Mitchell is the only one of the three to play in the NBA playoffs, having made it with the Jazz in each of his first two seasons.
No matter when we get back to actual basketball, one thing is clear: Fox is not here for any Kings slander.