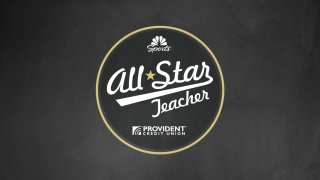 SAN FRANCISCO, CA. – April 3, 2023 – NBC Sports Bay Area announced today the five finalists for the 2023 All-Star Teacher Award, presented by Provident Credit Union. In its 16th year, the All-Star Teacher Award has recognized middle and high school teachers in Northern and Central California for their extraordinary dedication to their students in school and in the community.
The Grand Prize-winning teacher's school will receive $30,000 for their school and will be announced during an on-field ceremony prior to a San Francisco Giants game at Oracle Park and live during NBC Sports Bay Area's telecast of Giants Pregame Live.
This year's five finalists are Stephen Ashford from East Palo Alto Charter School in East Palo Alto; Erik Bertelson from Wells Middle School in Dublin; Lynn Ha from William C. Overfelt High School in San Jose; Shana Pitts from Mesa Verde High School in Citrus Heights; and Saskia Kramer Wong from Boots School at Cypress School in Petaluma.
Voting for your favorite among the finalists can be done online at NBCSportsBayArea.com/AST from April 3 to June 5, 2023. The website will feature biographies and short videos of the five finalists. In addition, the finalists will be featured in personal videos vignettes that will air on NBC Sports Bay Area and NBC Sports California, and they will be interviewed on select Giants Pregame Live and A's Pregame Live shows.
Finalists will be selected based on four categories: overall commitment; excellence in teaching; rapport with students; and level of distinction.
This year's panel of judges consisted of leaders in the community, including Jay dela Cruz, Director of Community Engagement, NBC Bay Area; John Haggarty, VP of Marketing, Provident Credit Union; Rabiah Khalid, Community Investment Manager, Comcast California; Detra Paige, Director, Alumni & Family Relations, Oakland Athletics; and Sue Petersen, Executive Director of the Giants Community Fund, San Francisco Giants.
About Provident Credit Union:
Provident Credit Union is a $3.5 billion financial institution with over 134,000 members and 21 community branches in the Bay Area. The Redwood Shores-based credit union has proudly served the Bay Area since 1950. The full-service credit union offers everything from checking and savings accounts to mortgages, auto loans, credit cards, and home and auto insurance. Provident began as the California Teachers Association Credit Union and expanded over the years to include those who live and work in the surrounding counties of the Bay Area and beyond. More information is available at www.providentcu.org .
About NBC Sports Bay Area and NBC Sports California:
NBC Sports Bay Area and NBC Sports California, both part of NBC Sports Regional Networks, serve more than four million households in Northern California, Nevada, Southern Oregon, and Hawaii.  NBC Sports Bay Area, the television home of MLB's San Francisco Giants, NBA's Golden State Warriors, and the official regional sports network of the San Francisco 49ers, also features a robust lineup of Emmy Award-winning news, analysis, and original programming. NBC Sports California offers live coverage of MLB's Oakland Athletics, NBA's Sacramento Kings, and NHL's San Jose Sharks. Collectively, these networks deliver more than 600 live game broadcasts per year.  The NBC Sports app provides live steams of the games and pre- and postgame shows, digital coverage of the hometown teams with original stories and content from a team of "Insiders," breaking news, up-to-the-minute game previews/recaps, highlights, and multimedia video clips.  Follow both networks on social media –Twitter: @NBCSAuthentic; Instagram: NBCSAuthentic; and Facebook: facebook.com/NBCSAuthentic.
MEDIA CONTACT:
Liza Catalan
NBC Bay Area
408-432-4302
liza.catalan@nbcuni.com