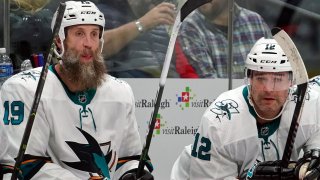 The unexpected struggles of this Sharks season have presented an unexpected dilemma that inevitably will reach a resolution in less than one month.
Seeing as the Sharks are not well-positioned for the playoffs, would San Jose consider trading Joe Thornton and/or Patrick Marleau to a Stanley Cup frontrunner as a professional courtesy to the future Hall of Famers?
The premise initially is jarring but starts to gain reason with time. 
Thornton and Marleau each have stated they aren't yet thinking about this potential situation, which is understandable, honorable and believable.  
However, there are some elements to consider before the Feb. 24 NHL trade deadline.
Emotional attachment in San Jose
When Marleau departed for the Toronto Maple Leafs in 2017, many felt there was zero chance he'd ever play a game again for San Jose, which made his return even more storybook. The "against all odds" theme also exists with Joe Thornton.  
The two knee injuries he has overcome in recent seasons would have ended most NHL careers for players approaching 40 years old. Simply put, this reunion of 1997's first two draft picks was highly unlikely and it would be unfortunate to end it under these circumstances. Keeping them for sentimental reasons, though, actually seems selfish, opposed to letting them chase a dream.
The difficulty of finding a trade partner
San Jose wouldn't likely ask for the world in return if they moved Marleau or Thornton, who are both free agents this summer. But they also would expect to receive fair market compensation for what might seem like the ultimate "final pieces" to any Stanley Cup contender. Negotiations might not be so simple.  
There's also the difficulty of lining them up with the best suited clubs to win it all, which seems like a group of around eight to 10 teams right now, instead of only three or four.
It has to be their decisions
Despite however they're quoted in the media, is this something Thornton or Marleau would even want to entertain? They have families. They're established in San Jose. But they also don't have unlimited chances for a Cup, no matter what their hearts desire.  
[RELATED: Why NHL All-Star Game hero Hertl wasn't an MVP finalist]
Do they want that opportunity, even if it means leaving San Jose? Those decisions should be made solely on their individual preference. They would need to be 100 percent behind it.
Stepping outside comfort zones
No matter what, the next four weeks are going to be different. When is the last time San Jose has been sellers approaching the deadline? And who knows if Thornton and Marleau would be the biggest departures?
 Just the thought of Thornton skating in a Boston sweater again, or possibly Marleau joining a speedy Colorado team is enough to cramp the brain. But if it means helping these men attempt the literal one thing that doesn't exist on their resume, it would be hard to deny the opportunity.