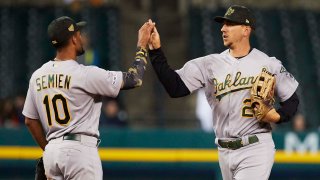 Stephen Piscotty spends his days roaming the outfield for the A's. But long before he sported the green and gold, he was a little leaguer being coached by his dad, Mike. 
"He had a little bit of that military-style -- very serious, regimented coaching style which was great for us kids growing up, Stephen said about Mike to NBC Sports California. "There was a time to have fun, but there was a time to be serious. He had a good way of teaching young kids how to play."
Stephen will honor his dad Thursday night during the sixth annual "Coaching Corps Game Changer Awards" presented by Levi's, where top Bay Area athletes honor influential coaches and mentors.
Stephen would play up a level throughout his playing career, beginning with little league. And the way he was coached by his dad is something he still uses to this day.
Mike, at times, would be the manager of three different teams for each of his sons -- that meant more than just switching hats and jerseys. 
His kids (all 15 of them if you counted his sons and the kids on the team) would come over, eat pizza and watch "The Sandlot" -- all the essentials you need for a successful little league season.
"Baseball gave me a platform to teach character -- just like you're teaching character to your children," Mike told NBC Sports California. "Things are going to go great and there's going to be controversy at times."
"Baseball gave me the opportunity to parent, just like you would coaching," Mike said.
Having his dad as a coach was all Stephen knew. So much so, when Mike wasn't around, it was "weird."
The weirdness, if you will, became apparent when Stephen went to college.
"That's where things really changed because he's not there every day and I'm around college coaches that know a fair amount," Stephen said. "I want to be very open to coaching and trying those things, but he's not there to go through it with me."
But dad was watching from afar. 
"That parenting approach I would take with my boys was pretty much the same with coaching," Mike said. "It was easy for me to do that because it was just an extension of my home to the field."
"Part of it is a success as an individual. Developing your skills, being able to have a great game, making a great play, having a fantastic hit or something and being able to enjoy that."
Mike believed that isn't something you can learn on your own, he believes it's something he helped Stephen with.
"[Stephen] reveled in it."
Turning his coaching hat into being simply being a dad and a supporter doesn't change the way Mike views the game. He still notices things. That's what happens when you've coached for as long as he has. 
Mike then detailed the moment he got the call that Stephen would officially be a Major League baseball player. 
"The emotions are just incredible," Mike said. "Very fulfilling and really a lot of fun. You can really enjoy it, I've learned."
As Mike watches Stephen on the big league diamond, he is overcome with memories of the days where they would use a wiffle ball bat in the backyard. 
"All those days we would spend at the field -- it's very satisfying," Mike said. "But life keeps going on. It's a great moment, but now that set up more great moments."
"Life's a journey. You don't ever stop coaching. You're always mentoring, you're always coaching. Baseball gave me the opportunity to parent, just like you would coaching."
[RELATED: Three A's prospects make Baseball America's top 100 list]
And no matter where he goes, Stephen knows his dad was there from the very beginning.
"He was my first coach, and he got me off to a tremendous start and developed the passion and love I have for the game," Stephen explained. "That's why I'm choosing to honor him."
You can donate to the "Coaching Corps Game Changer Awards," here. 
"Coaching Corps Game Changer Awards" presented by Levi's airs Tuesday, January 28 at 7:30 p.m. on NBC Sports Bay Area