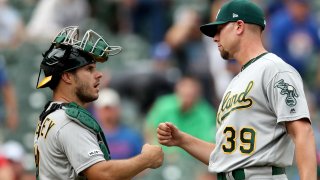 The A's have decided to move on from a trio of veterans, non-tendering Blake Treinen, Ryan Buchter, and Josh Phegley on Monday, making them free agents.
Oakland did tender contracts to Chris Bassitt, Mark Canha, Robbie Grossman, Liam Hendriks, Sean Manaea, Chad Pinder and Marcus Semien, all eligible for arbitration this offseason. The A's also agreed to a one-year contract with left-handed reliever T.J. McFarland, worth $1.8 million, a source told NBC Sports California.
None of the moves are particularly surprising, though Treinen figures to garner a great deal of interest on the free agent market. The 31-year-old is just a year removed from recording 38 saves and a 0.78 ERA with 100 strikeouts in 80 1/3 innings.
However, Treinen struggled in 2019, posting a 4.91 ERA and 1.62 WHIP, ultimately losing his closer job. The right-hander was projected to get close to $8 million in arbitration, so it was never realistic that he would return. Oakland reportedly tried to find a trade partner for Treinen but couldn't get a deal done before Monday's non-tender deadline.
Buchter was made expendable by McFarland's deal, particularly with MLB's rule changes for next season, which require a pitcher to face at least three batters before departing. The A's primarily used Buchter as a left-handed specialist over the past two seasons, which won't be an option next year.
Buchter, 32, went 1-1 with a 2.98 ERA and 1.43 WHIP in 45 1/3 innings last season. He was projected to get $1.8 million in arbitration.
As for Phegley, the writing was probably on the wall earlier Monday when Oakland acquired 25-year-old catcher Austin Allen from the Padres for second baseman Jurickson Profar. A left-handed hitter, Allen figures to back up Sean Murphy behind the plate, leaving no room for Phegley, who was projected to get $2.2 million in arbitration.
Phegley, 31, slashed .239/.282/.411 last season with a career-high 12 home runs and 62 RBI. He hit .233 in five years with the A's.
With the departures of Treinen, Buchter, Phegley, and Profar, the A's roster is beginning to take form for 2020. Youngsters Sheldon Neuse, Franklin Barreto, and Jorge Mateo will likely battle for the starting second baseman job, though Oakland could still bring in a veteran in free agency or via trade.
[RELATED: Profar trade gives A's infield situation clarity]
As expected, the bullpen is the area that needs the most work. The A's will bring back Hendriks, Yusmeiro Petit, Joakim Soria, Lou Trivino, J.B. Wendelken, as well as McFarland and Bassitt. That leaves room for another couple of relievers in free agency.
Of course, the moves should really start to pick up next week when the baseball world converges on San Diego for the annual Winter Meetings.