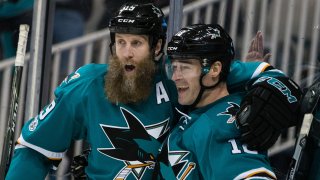 The Sharks quickly are approaching 30 years of existence, and still have yet to retire their first jersey number.
 
It's not that they can't, or won't honor any individuals in the near future. Only that we don't know where the bar is set. What level of qualifications does it take to have your name and number permanently enshrined in the rafters at SAP Center?
 
There also is the matter of who will get this franchise honor first, and should it be chronological? We'll leave those aspects for a different time, and move on to a much greater hypothetical.
 
When their time does come -- should the Sharks retire Patrick Marleau and Joe Thornton's numbers on the same night?
 
Would they?
Patty and Joe have been through thick and thin together over multiple decades. They were drafted moments apart in 1997 and joined forces with the Sharks in 2005. In 2014, they signed near-identical three-year contract extensions on the very same day. Then in 2017, Thornton reportedly waited to sign his new deal and was willing to take less money, just to see if the Sharks could retain Marleau, who ultimately departed for Toronto. Clearly, there's a bond and respect between the two veterans.
 
They also are among the most team-oriented, selfless human beings you could imagine. Despite all their professional success, they actually don't have much thirst for the solo spotlight or personal recognition.
 
Could they?
Although wildly unprecedented, there's not any given rule against this. While Hall of Fame induction ceremonies always come in bunches of individuals, the tradition of a jersey retirement is singular in nature.  
 
The spectacle of this potential night would be more than anything a single Sharks game has ever seen. The speeches, the tributes, the goosebumps. It would have everything. It's not that anyone is rushing for this scene to become reality, only that we all know how special it would be and what kind of production value the organization would lend it.
 
Tickets for an occasion like this would be more difficult to come by than almost any other event in the history of SAP Center. This also is a reason why the team would be inclined to split them across two games, maybe even on back-to-back nights.
[RELATED: Why Sharks blueliners could draw increased trade interest]
 
Should they?
The answer to this lies mostly in public perception. But it would be difficult to imagine a wealth of criticism against the idea. If they were the first to enjoy the honor, hanging banners for 12 and 19 on the same night would break the mold of retiring jerseys in an unquestioned fashion.
 
It would also open the conversation about what that entry "bar" is for a Sharks jersey retirement, and who should be next.
 
There's also an issue of aesthetics. Should only one number be retired for days, weeks, or months before the next -- that banner is going to look awful lonely until it has the proper company it clearly deserves.