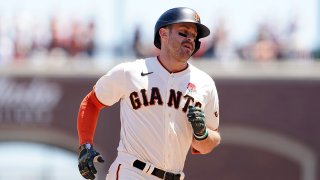 SAN FRANCISCO -- All week, Giants manager Gabe Kapler has said he would get Evan Longoria back on the lineup card the second he was ready to go. When Longoria told Kapler on Thursday night that he felt good, the manager didn't hesitate. 
Longoria was activated just in time for a crucial three-game series against the Los Angeles Dodgers. He'll be available off the bench Friday and could start Saturday against tough lefty Julio Urias. To clear a roster spot, the Giants optioned Mauricio Dubon back to Triple-A. 
Longoria missed more than two months with a shoulder sprain and then took a fastball off the hand once he returned. He has missed the last 11 games and played just five games since June 5. Before he went down the first time, Longoria was one of the more productive players in the lineup and a steady glove at third base.
"We're really glad to have him back," Kapler said. "I think him being on our roster today, on our card today, obviously provides a boost strategically but I think it also provides a boost kind of energetically, just to know Longoria is there for us. His teammates really look to him as a leader and it's going to be nice to have him back in the dugout."
Longoria's return couldn't be better timed, and not just because the Dodgers are in town. The Giants have been without Donovan Solano (COVID-19) for the last week and Wilmer Flores went on the IL on Thursday with a hamstring strain. Kapler has been short on right-handed bats, but Longoria will push Kris Bryant to the outfield and deepen the bench. 
The Giants are close to getting another starter back, too. Tommy La Stella should be available off the bench Friday after missing the Brewers series with oblique tightness.