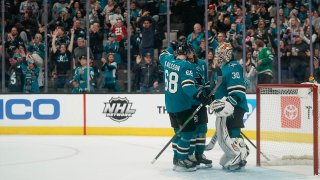 Of the Sharks' 35 remaining games this season, 22 are against teams in playoff position. Presently, they sit seven points back of the West's second wild-card spot, although five other teams also are in the mix for that final berth.
Stating the extremely obvious: The Sharks still face a difficult yet imperative climb, following the ruts of October (four wins) and December (two wins). They're also minus the contributions of captain Logan Couture, likely until March. And in all estimations, approximately just 10 more regulation losses would mark the end of any chance of a San Jose playoff berth.
However, if you've watched this team since Christmas, there are some encouraging trends.
They've won five of eight, and beaten some hot teams
On Saturday night, the Sharks beat Joe Pavelski's Dallas Stars, ending their six-game winning streak. In the game before that, they beat Columbus for the second time in a week, and remain the only club to defeat the Blue Jackets in regulation since Dec. 7.
Without rhyme or reason, we know this edition of the Sharks wins and loses games in bunches. It also wouldn't make sense that their return to success comes in this road-heavy, break-laden month of January. But really, what has been predictable this season?
What especially stings are recent blunders against the Los Angeles Kings (late 2-0 lead turned into a 3-2 OT loss), the Detroit Red Wings (shutout 2-0 by the NHL's worst team), and the Washington Capitals (two-goal lead with a minute left, turned into an OT loss). Give the Sharks even two hypothetically different results, and they'd be a team winning seven of nine since the Christmas break. They'd also be right on the heels of the second wild-card holders.
The power play finally is impactful
On Saturday night, Patrick Marleau scored a "power play-influenced" goal. And as of late, the man advantage has been capitalizing on a regular basis for the first time since around Halloween. They have goals in four of the last six tilts … a far cry from the period between November and December, when the power play went scoreless in 14 of 15 games.
Interim head coach Bob Boughner has created internal competition between the two units, instilled the "shoot-first" mentality and definitely given Joe Thornton noticeably more responsibilities and opportunities in 5-on-4 situations. Those moves have helped equalize the special-teams situation in San Jose. The Sharks still hold the NHL's top penalty kill (88.2 percent) by a whopping five percentage points, yet are 25 out of 31 clubs with a 16.7 percent conversion rate on the power play.
Getting closer to a very-attainable 20 percent success rate for the final stretch of the regular season would make a world of difference in game results.
Team defense, goaltending are surging
Don't hold your breath for an "official" announcement from Boughner that Aaron Dell is the Sharks' No. 1 goalie. It's not happening. Just look at Dell's assignments and performance as all the declaration you need.
As Couture recently commented: "The more [Dell] plays, the better he gets," which is unfolding right before our eyes. The confidence is equal to the distance he's coming out of the crease and challenging shooters. It's not to say that goaltending has been the Sharks' only defensive issue this season, but Dell appears to be eliminating the accusation of shaky netminding lately.
[RELATED: Pavelski reflects on San Jose return]
The Sharks have looked and performed so much better without the puck in the last two to three weeks. Odd-man rushes and net-front chances still occur for opponents, but with much less regularity. The biggest common thread of recent defensive lapses usually align with allowing "response" goals and late-period goals.
But San Jose still has allowed that famous "Two or Fewer" amount of goals in six of its recent eight games. And you can be guaranteed this team only will go so far as its defense can in the final 35 games.