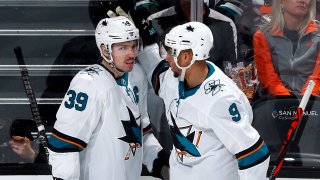 Sharks captain Logan Couture thanked Evander Kane and former NHL player Akim Aliu for speaking out against racism in hockey, tweeting a note Saturday that said the sport and society "are only scraping the surface in what desperately needs fixing."
"Racism exists in society, it also exists in hockey," Couture wrote. "That's a fact. Growing up in this game is a privilege. [At times,] I think most of us have been at fault for turning a blind eye when it comes to racism. It cannot continue."
Kane later tweeted his appreciation of Couture's message.
Kane, who is black, has become increasingly vocal speaking out against racism within -- and beyond -- the sport in the past year. In September, Kane told TSN 1040 in Vancouver that hockey lagged behind other professional sports in diversity and addressing racism after fan told him to "stick to basketball" in an Instagram comment. Kane called a story in "The Players Tribune" earlier this month authored by Aliu, whose revelation that Bill Peters directed racial slurs towards him in the AHL led to the Calgary Flames firing their now-former coach late last year, a must-read for everyone involved in hockey.
George Floyd's death in Minneapolis police custody Monday outraged Kane, tweeting that video of the incident made his "[f---ing] blood boil." Floyd, a 46-year-old African American man, could be heard on video saying "I can't breathe" as former officer Derek Chauvin, who is white, pressed his knee into Floyd's neck while three other officers at the scene looked on. Chauvin and the three officers were fired Tuesday, and Chauvin was arrested and charged with third-degree murder and manslaughter.
[RELATED: Kerr says he, white people have to do more to fight racism]
Kane said Friday in an interview on ESPN's "First Take" that white athletes couldn't leave speaking up against systematic racism to their black peers. While Kane felt supported by his teammates, he told "Writers Bloc" on CJCL in Toronto later that day that hockey's team-first culture often encourages silence on a wide range of issues in the sport and outside of it.
"Is it going to change? I hope," Kane said (H/T Sportsnet's Sonny Sachdeva). "I'm going to try to be a part of the solution and process in creating that change. But … when it comes to social injustices and racism in hockey, it requires change at the top. Because, you know, that's the only way true change is going to take place. At the top. Because it's going to have a trickle-down effect.
"And until things change at the top ... until they make the necessary change to condemn these sort of acts and mindsets … and really weed out that type of thought process, we're going to be stuck in the same position we are today, and that's unfortunate."
Sharks owner Hasso Plattner, who doesn't often publicly comment, said in a rare statement Friday that the Sharks applauded Kane's "rational and thoughtful response to the terrible tragedy" of Floyd's death. Defenseman Mario Ferraro retweeted the statement, and Couture's note is the first tweeted by one of Kane's San Jose teammates in support.