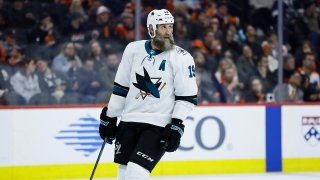 The NHL has indefinitely paused its season in the wake of the coronavirus pandemic. While it's not as if the unexpected break is bringing about an accelerated end to a season the Sharks were enjoying, no hockey simply is no fun for anyone -- fans especially included.
Reality dictates that there just aren't a whole lot of hockey positives to hang our hats on right now. However, the unprecedented developments could bring about some silver linings when the NHL ultimately resumes.
Case in point: Extending the longevity of some of the NHL's greatest players.
Joe Thornton was briefly disappointed he wasn't traded to a contender at the deadline, but soon after reiterated his commitment to San Jose. The 40-year-old was on a bit of a hot streak just prior to the season being paused with three goals in six games, and from the sounds of it, the extended break has only served to confirm that he still has plenty left in the tank.
"I have years to go!" Thornton recently texted The Athletic's Pierre LeBrun.
[RELATED: NHL sends memo to all teams recommending self-quarantine]
Years, you say? As in, plural?
We could all use some good news right now, and for Sharks fans, that certainly qualifies.