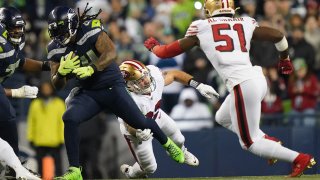 So now Pete Carroll decides to give Marshawn Lynch the ball.
Down 13-0 late in the first half, the Seattle Seahawks were marching down the field before facing a fourth-and-inches at the 49ers' 31-yard line.
Lynch, who was signed earlier this week, checked into the game and got the handoff, but Nick Bosa and Co. were not afraid of Beast Mode coming downhill.
[RELATED: Deebo hits 'B button' on sweet 30-yard reverse TD for 49ers]
The stop maintains San Francisco's two-score advantage going into the half, and stopped all the momentum Seattle had built up on what was the Seahawks' best drive of the half.