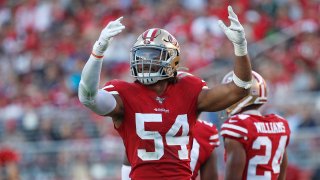 Talk about a swing of momentum!
With the Rams leading 21-17 and driving near midfield with less than two minutes remaining in the first half Saturday night, 49ers linebacker Fred Warner read the eyes of Los Angeles quarterback Jared Goff, intercepted a pass and returned it 46 yards for a touchdown to give San Francisco its first lead of the night.
[RELATED: Watch Deebo pull 49ers closer to Rams with 19-yard TD run]
It was the Rams' first turnover of the game. Leading 24-21, the 49ers got the ball to start the second half, but quarterback Jimmy Garoppolo threw an interception.