Protecting the 49ers is not just a way of life for the players, coaches and staff within organization. It goes for the their Faithful fan base as well.
For Rodrigo Bolaños, a Los Angeles native who has been a 49ers fan for over 20 years, it was instinct when Deebo Samuel and Rams cornerback Derion Kendrick approached his field-level end zone suite during San Francisco's 30-23 Week 2 win at SoFi Stadium.
"Honestly I thought I was going to get kicked out," Bolaños told NBC Sports Bay Area. "But the assignment was protect Deebo and the team at all costs."
With the 49ers and Rams tied 17-17 near the end of the third quarter, Brock Purdy and the offense were driving down the field. On third-and-7, San Francisco's quarterback aired it out but overthrew Samuel.
After the pass fell incomplete, both Samuel and Kendrick ended up right next to the game clock display — and Bolaños' suite.
Then things got a chippy. Samuel and Kendrick shared some words and a shove. That's when Bolaños jumped into action to separate the two players.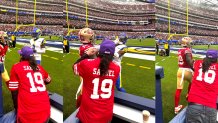 "If we would have gotten a flag, it would have knocked us out of field goal range," Bolaños recalled. "After Deebo got bumped, he kind of grabbed Kendrick's face mask and that was when I said, 'Hey, get the f--k away.'
"We were [tied up] at that point, and in the NFL, the second guy always gets caught."
In the heat of the battle Samuel didn't realize Bolaños' involvement, but the "wide-back" described the interaction with Kendrick after the game, as well as his appreciation for the involved member of the Faithful.
"[Kendrick] just kind of ran up and head-butted me out of no where," Samuel said after the game. "I was like, 'What's going on?' But that was kind of cool to see a fan get into it and try to protect the team as well."
Bolaños believes his effort was worth potential ejection from the stadium. On the next play, kicker Jake Moody notched a successful 57-yard field goal, giving the 49ers a lead they would never relinquish.
"I saw the ball coming and I thought he was going to catch it," Bolaños said. "That's why I was over there, ready to celebrate."
Bolaños and his wife Izzy Ayala, who captured the interaction with the photos in this story, plan to attend future 49ers games, especially those in their hometown of Los Angeles.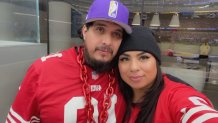 Trust that if a similar situation were to occur, Bolaños will be ready to spring into action once again.