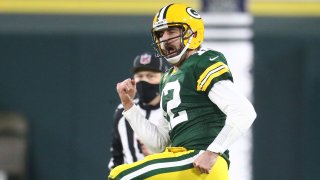 Cha-ching!
After initially refuting reports of him signing a lucrative four-year, $200 million extension with the Green Bay Packers, Aaron Rodgers' official extension is set to earn him $150 million over the next three years, with the first two years fully guaranteed at signing. 
While that's a huge figure, the NFL is not alone in outsized contracts. 
Here's a look at some of professional sports' highest average annual salaries (endorsements not included): 
Lionel Messi - $75 million
After spending 21 seasons with Barcelona, including four years with the youth academy, the Argentine legend Lionel Messi left the only club he ever represented for a new chapter in France. At 34, he now has a $75 million salary with Paris Saint-Germain, the richest club in Ligue 1. He likely would have earned more had he stayed with Barcelona, but he's still at the top.
Neymar - $75 million
On March 7, 2009, 13 years ago, Neymar made his debut for Santos FC in Brazil. That was the start of a legend in the making. The now 30-year-old attacker played for Barcelona alongside Messi but left for Paris Saint-Germain in 2017 to be the main man. Now reunited with Messi in France, the Brazilian star resides at the top alongside his attacking teammate and friend.
Canelo Alvarez - $73 million
In 2018, Mexican boxing sensation Saul "Canelo" Alvarez inked a record-setting five-year, $365 million deal with DAZN. Not only was that the most for any boxer, but it was the most for any professional athlete at the time. Unfortunately, that deal reportedly is no longer active, but it's one of the richest contracts we'll surely remember.
Cristiano Ronaldo - $70 million
It took just one season at Sporting CP for Cristiano Ronaldo to become a highly regarded prospect around Europe's top leagues. Manchester United swooped in, and Ronaldo quickly became one of the world's most prominent athletes. Now back with United after stints with Real Madrid and Juventus, Ronaldo is third in salary among active players, but he edges Messi and Neymar in total earnings due to endorsements.
Stephen Curry - $54 million
From playing college basketball at Davidson to becoming the NBA's all-time leader in 3-pointers made, Stephen Curry's looming contract extension will net him an average salary just shy of $54 million after reaching a $215 million extension in 2018. He'll earn $59.6 million in 2025, when he'll be 37. He's the highest-paid player in the NBA, and he's certainly earned it with what he's done for the Golden State Warriors.
Deshaun Watson - $46 million
After trading for Houston Texans quarterback Deshaun Watson, the Cleveland Browns gave Watson a lucrative five-year deal worth $230 million, according to ESPN's Adam Schefter. Every single penny in that contract is guaranteed, which sets a new record for an NFL player. Watson just edges a fellow AFC quarterback in this list.
Patrick Mahomes - $45 million
Prior to Rodgers' record deal, Patrick Mahomes held the NFL's top spot. The Kansas City Chiefs quarterback became the first professional athlete to sign a contract for what could exceed a half-billion dollars. Mahomes agreed to a 10-year contract extension in March 2021 for $450 million, a deal that could reach up to $503 million with incentives and bonuses.
Max Scherzer - $43 million
The 37-year-old pitcher will be well compensated for his upcoming three seasons of work for the New York Mets. Scherzer will make $130 million over that span, giving him the highest annual average value in MLB history at more than $43 million per season. That topped MLB's previous AAV record set by Gerrit Cole, who signed a nine-year, $324 million contract with the New York Yankees in 2020 for $36 million per.  
Mike Trout - $35.5 million
Trout in 2019 signed what was the richest overall contract in professional sports history when he inked a 12-year deal worth more than $430 million. At the time, the three-time American League MVP's record deal topped MLB's previous high for annual average value of $34.4 million held by then Diamondbacks pitcher Zack Grienke. While Trout has been surpassed by Mahomes and now Rodgers, his contract remains the richest overall in MLB history.