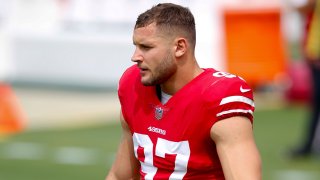 49ers star edge rusher Nick Bosa was carted off the field during the first quarter of Sunday's game against the Jets.
On the next play, 49ers defensive lineman Solomon Thomas was carted off the field as well.
Both players officially were ruled out in the second quarter with knee injuries.
Bosa was named the NFL's Defensive Rookie of the Year last season. The No. 2 pick in the 2019 NFL Draft finished an historic rookie year with nine sacks, 16 tackles for loss and 25 QB hits in the regular season. He also added four sacks and five QB hits in the playoffs. 
He had six tackles, one QB hit and one forced fumble in the 49ers' Week 1 loss. 
Thomas, 25, was selected by the 49ers with the No. 3 overall pick in the 2017 NFL Draft. He has six sacks through his first four seasons. His fifth-year contract option was declined by the 49ers, and he will be a free agent after this season.
The 49ers led 7-0 when Bosa and Thomas were carted off the field.