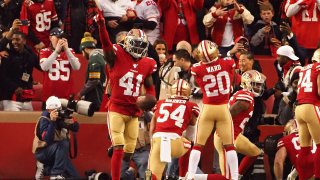 It's getting ugly at Levi's Stadium.
49ers running back Raheem Mostert scored his third touchdown of the day late in the second quarter of Sunday's NFC Championship Game, giving San Francisco a commanding 27-0 lead over the Green Bay Packers.
Excellent field position was gifted to the 49ers' offense by cornerback Emmanuel Moseley, who picked off Green Bay quarterback Aaron Rodgers on the Packers' side of the field.
[RELATED: Fastest RB in playoffs: 49ers' Mostert sets top speed mark]
Time to start warming up those buses in Santa Clara.