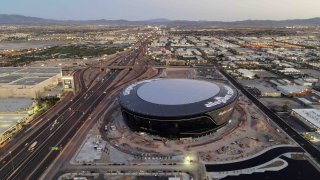 Cleveland quarterback Otto Graham led the American Conference to a 28-27 win over the National Conference in a 1951 classic that is considered the first Pro Bowl. But it wasn't the first pro football all-star game.
That concept, which will play out at Allegiant Stadium on January 31 when Las Vegas hosts the 2021 Pro Bowl, was born in 1939 when the NFL champion New York Giants edged a team of all-stars from the rest of the league in a defensive struggle that bore no resemblance to the shootouts of today's Pro Bowls.
There were five such contests from the 1938 season through the 1942 season when the game went on hiatus due to travel restrictions during World War II.
It was revived with that 1951 classic in Los Angeles, which was when the concept of pitting players from the American Conference against those from the National Conference was born.