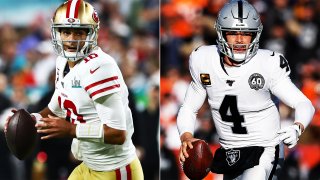 Do you have three hours to spare on Thursday night? Of course you do.
The NFL announced Monday that it will release the full 2020 schedule Thursday night at 5 p.m. PT.
During a three-hour special on the NFL Network, the 49ers, Raiders and all 30 other NFL teams will find out the times and dates for this fall's slate of games.
For now, the NFL is moving along as if the 2020 season will begin as scheduled on Sept. 10 and end with the Super Bowl on Feb. 7 in Tampa, FL.
But last week, Sports Business Journal reported that the NFL is developing contingencies in case the global coronavirus (COVID-19) pandemic forces the league to push the start of the season back.
The 49ers, coming off a 13-3 season in which they won the NFC West and secured the No. 1 seed in the NFC, will face a tough schedule that includes road games in Dallas, New England and New Orleans.
After a disappointing 7-9 season, the Raiders will open their first season in Las Vegas. We'll find out Thursday who they will host in their first game in Sin City, and when that game will take place.
Tom Brady and the Tampa Bay Buccaneers are scheduled to visit Las Vegas this season.
[RELATED: Lynch preparing for on-schedule season start]
Other marquee non-AFC West matchups for the Raiders include the Patriots, Saints, Falcons and Bills.
No one knows yet if the NFL season will proceed as planned, but the schedule release gives fans something to look forward to while they wait for the shelter-in-place orders to be lifted.