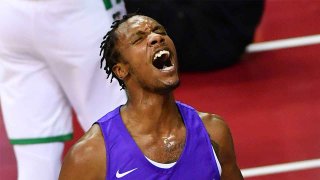 The opening few minutes looked bleak for Sacramento. They came out nervous and the Boston Celtics jumped all over them early in the Las Vegas Summer League Finals game. 
With the Kings looking lost on the offensive end, Louis King stepped up and started hitting shots to help Bobby Jackson's squad snap out of their daze. And then the defense kicked in.
Davion Mitchell turned up the intensity and the rest of the team followed their point guard's lead. The result was a stunning 100-67 runaway win for the Kings to take home their second Las Vegas League Championship in franchise history.
Carson Edwards and Aaron Nesmith put up numbers for the Celtics, but the Kings defense came away with 17 steals and helped force 28 Celtics turnovers in the victory.
Here are three takeaways as the Kings finish 5-0 in Las Vegas and head back to Sacramento with some hardware. 
Lockdown 
Payton Pritchard scored 92 points in a Portland Pro Am game over the weekend and he came into Tuesday night averaging 20.3 points per game for the Celtics. And then he met Kings rookie Davion Mitchell.
Mitchell put the clamps on the second-year point guard, holding him to just six points on 0-for-6 shooting from long range.
The focus for the Kings this summer was to add defenders. They found an incredible one in Mitchell. He added nine points and seven assists to help lead his team to victory. 
King of Kings
Sacramento came out cold and looked lost. They trailed 12-2 early and then Louis King stepped up and put the team on his back. 
The Kings' two-way wing scored 10 of his 21 points in the first quarter. Without his maturity and steady hand, Sacramento would have been blown out early.
King is under a two-way contract this season with Sacramento and he's shown that he is ready to contribute when given an opportunity. He's versatile enough to play three positions and his improvements on defense are noticeable.
Scary Terry
Emmanuel Terry wants every rebound. All of them. Even the ones off his own misses.
The 24-year-old big man has been a breath of fresh air in Las Vegas. He springs off the floor as well as any player in Summer League and he has a nose for the rebound.
Terry finished the night with a big time nine-point, 15-rebound near double-double performance off the bench. He added five steals and was all over the court on the defensive end. 
Sacramento doesn't currently have a roster for Terry, but he probably deserves one. He brings an energy and motor that the team could use, even with their crowded front line.