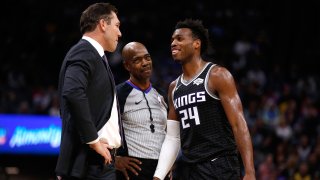 No one likes to get demoted. Kings shooting guard Buddy Hield is no exception.
After starting 126 straight games for the Kings, Hield was moved to the bench before the team's Jan. 24 game against the Chicago Bulls. For whatever reason, the move has sparked the Kings to a 6-3 record and increased production, not only from Hield, but De'Aaron Fox and Bogdan Bogdanovic as well.
In a long breakdown of the current state of the Kings on The Athletic, this nugget of information was thrown into the mix.
"If Hield remains displeased with his role, a source with knowledge of his thinking said he might request a trade," writes Shams Charania. "He believes he is a starter in the NBA and there's no guarantee he'll get that job back, given how the team has played lately."
There is no question that Hield considers himself a starter in the league. As he prepares for his second straight 3-point contest at All-Star weekend, the fourth-year guard has refused to discuss his situation publicly, which is a break from how he has handled previous situations this season.
It's clear he would rather work with the first team, but for now, he has avoided unloading on head coach Luke Walton or management for the decision.
Since heading to the second unit, Hield has flourished. He's posting 22.2 points, 5.3 rebounds and 2.6 assists in 28.6 minutes over the last nine games. He's also hit 47-of-92 (51.1 percent) from behind the arc during that stretch.
This isn't how the Kings planned out their season, especially after signing Hield to a four-year, $86 million extension over the summer. But it's clear that the frustrations Hield is feeling are mutual.
The team wasn't thrilled with the way he conducted contract negotiations through the press leading into the season. They also weren't exactly enamored with his decision to go public with his grievances over fourth quarter playing time in December.
"It seems like we're all over the place, the coaches and everybody - trust issues going on, I guess guys stop believing in players," Hield said. "It is what it is, man. They have who they have playing out there and I just have to be supportive.
"I want to make plays and make shots," Hield added. "I feel like I wasn't trusted the past two games to be on the court, so as a player, no matter what, I feel like it's my job to go out there and compete at a high level and guys know that if I'm struggling or not, they've still got to ride the wave."
Hield later apologized to his coaches and teammates for his comments. He is an emotional player, especially after tough losses. Unfortunately, this is a pattern of decision making, not a one-off situation.
For now, Hield will stay with the second unit. Walton has repeatedly said this isn't a permanent situation, but with the team winning and all three of the Kings' primary guards playing well since the swap, it's likely we will continue to see this rotation moving forward.
Hield is just finishing his rookie scale contract, which pays him $4.9 million this season. His salary jumps to $24.4 million next year as his new extension kicks in.
The Kings love Hield's ability to stretch the floor and create running lanes for Fox. He is the fastest player to 800 3-point makes and with the way he's currently shooting, he easily will surpass his team-record 275 3-point makes that he set last season.
It would behoove the Kings to find some common ground with their soon-to-be highest-paid player moving forward, but it will be difficult. The team spurned offers for Bogdanovic at the trade deadline with the hopes of signing him to a long extension this summer when he becomes a restricted free agent.
Fox isn't going anywhere, either. The Kings starting point guard is due an extension this summer as well and is likely looking at a max-money five-year deal.
[RELATED: Holmes has labral tear, will be re-evaluated in 2-3 weeks]
With a rash of injuries and no clear return date for either Richaun Holmes or Marvin Bagley, Walton could attempt to go small with his starting lineup. Harrison Barnes has played plenty of power forward in the past and the team has used Nemanja Bjelica as a small-ball five on many occasions this season.
Walton also could stay the course and hope that continued success breeds harmony in the locker room. It's a complicated situation, but one that will take time to figure out.
For now, Hield is biting his tongue. He wants to be a starter. He wants to play major minutes. He wants to win.
That last point is key. As long as the Kings are winning, Buddy Hield may have to come off the bench and wait for his next opportunity.