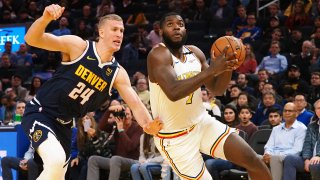 DENVER -- In their latest quest for a win, the Warriors (13-48) make their lone visit to the Mile High City on Tuesday for a matchup with the Denver Nuggets (41-19). 
Pregame coverage on NBC Sports Bay Area begins at 5:00 p.m., with tipoff scheduled for 6:00.
[RELATED: How to watch Warriors-Nuggets on NBC Sports Bay Area and MyTeams]
The task will be tough, considering Golden State's current roster. Three of the 10 available players to play are on 10-day contracts, and four weren't on the opening day roster. Additionally, Draymond Green and Kevon Looney aren't expected to play.  
Meanwhile, the Nuggets are in the midst of a postseason race and currently are tied with the Los Angeles Clippers for the No. 2 seed in the Western Conference. 
PROJECTED LINEUPS
Warriors
F Andrew Wiggins
F Marquese Chriss
C Dragan Bender
G Damion Lee
G Jordan Poole
Nuggets
F Will Barton III
F Jerami Grant
C Nikola Jokić
G Gary Harris
G Jamal Murray
INJURY REPORT 
Warriors: Ky Bowman (right ankle sprain), Stephen Curry (left-hand fracture), Klay Thompson (left ACL rehabilitation), Draymond Green (sore left knee), Kevon Looney (sore left hip) are out.
Nuggets: Bol Bol (left foot injury management) is out. Paul Millsap (right ankle sprain), Noah Vonleh (left ankle sprain) are questionable. 
ROTATION OUTLOOK
Warriors: Golden State has used 31 different starting lineups this season, which is the seventh most in NBA history. Last season, the Warriors used just 20 different lineups. ... Chasson Randle -- the team's newest 10-day signee -- will make his debut on Tuesday night. The Warriors have been in pursuit of Randle for weeks but needed a letter of clearance from FIBA to make the deal work. ... Draymond Green and Kevon Looney will be re-evaluated when the team returns to the Bay Area on Wednesday. ... Jordan Poole has found his game recently, averaging 16.8 points on 49.2 percent shooting from the field over his last five appearances. 
Nuggets: Jamal Murray is averaging 23.4 points, 5.6 assists and 2.9 rebounds over his last 10 appearances. ... Along the way, the Nuggets have both lost big to the Clippers and impressively beaten the Toronto Raptors. ... Nuggets big man Nikola Jokic is shooting 73.8 percent from the field over his last five outings. He won Western Conference player of the week earlier in February, and the 25-year-old has averaged 25.3 points per game since the start of last month.
Officials: Kane Fitzgerald, Kevin Cutler, John Butler