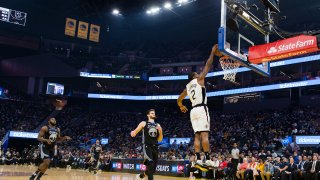 SAN FRANCISCO – The Warriors (15-50) didn't have much of a chance Tuesday night, and they had no chance at all once the Los Angeles Clippers (44-20) took a double-digit lead early in the second quarter.
If there was a bright side, it is that the 131-107 spanking took place in front of the smallest home crowd -- directly attributed to legitimate concerns about the coronavirus -- under a Joe Lacob/Peter Guber ownership now in its 10th season.
Andrew Wiggins, who after an impressive first four games with the Warriors has struggled to score over last seven, submitted his most efficient performance in nearly three weeks. He totaled 21 points on 8-of-16 shooting, including 3-of-8 from distance.
Here are three takeaways from a game played under atypical conditions that sent fans to the exits in the third quarter.
Manhandled in every way
The Warriors, in a rebuilding season, are in the final weeks of auditions for the future.
The Clippers are championship contenders, built to win now. And, boy, was the disparity evident.
The Warriors were outrebounded (47-35). Center/forward Marquese Chriss took down a team-high 10 and backup big man Dragan Bender grabbed seven, including four during a garbage-time fourth quarter.
The Clippers consistently exploited an abundance of defensive breakdowns by the Warriors to shoot 50 percent from the field, including 45.5 percent from deep.
With the Clippers taking a 34-point lead (111-77) into the fourth quarter and the Warriors in no position to mount a miracle comeback, LA coach Doc Rivers had all five of his starters watch from the bench.
The carnage continues
On the night one rookie -- point guard Ky Bowman -- returned after a five-game absence due to a sprained right ankle, another rook went down with an injury.
Forward Juan Toscano-Anderson, the Castro Valley High product making his sixth consecutive start, lasted only 50 seconds before spraining his left ankle and leaving for the night.
With the Warriors starting the game with 10 healthy players, but only two – Andrew Wiggins and Eric Paschall – listed as forwards, coach Steve Kerr spent the remainder of the game with makeshift lineups.
It has not been determined how long Anderson will be out, but for the time being, he will go to the sideline, joining Stephen Curry (flu), Draymond Green (left knee soreness), Kevon Looney (left hip soreness), Alen Smailagic (right quadriceps contusion) and Klay Thompson (left ACL rehab).
[RELATED: How Warriors could have a great bench next season]
Smallish crowd, as appropriate
Even in a season when the Warriors didn't get anywhere near a playoff berth, crowds have been pouring into Chase Center at a relatively impressive rate. Not on this night, and it's totally unrelated to the lure of basketball.
It's also completely understandable with the coronavirus threatening to become a global pandemic and various local, state and federal governments taking measures to mitigate its spread.
Meanwhile, there is a growing and thoughtful reluctance to join large crowds, such as those attending an NBA game. There were signs posted at Chase Center entrances urging attendees to be hypersensitive about hygiene.
The attendance announced as capacity (18,064), but a fair estimate is that there were at least 5,000 empty seats.
This is the NBA, and any other popular spectator sport, as of Tuesday night. It's not so much the new normal as it is the norm for now, indefinitely.