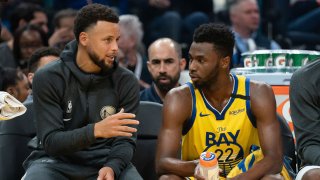 The Warriors have long known that they'll have a top-five pick in the 2020 NBA Draft, but Thursday's draft lottery will reveal precisely where it falls.
Obviously, Golden State is hoping to land the No. 1 overall pick. Of course, the Warriors already have a former No. 1 pick on their roster, and he likely will be far more important in their quest to immediately get back to championship contention than whichever rookie they select in the lottery.
Andrew Wiggins was drafted first overall in 2014, but never fully lived up to that promise during his time with the Minnesota Timberwolves. The Warriors acquired the supremely athletic small forward in a midseason trade, and Wiggins played 12 games in a Golden State uniform before the season was abruptly suspended due to the coronavirus pandemic.
Wiggins offers loads of potential and showed glimpses of it over that brief span. He'll need to continue expanding on his game if the Warriors are going to compete for the NBA title next season, and coach Steve Kerr identified one area in particular in which they'll need him to grow.
"I've talked with Andrew quite a bit this summer," Kerr told 95.7 The Game's "Damon, Ratto & Kolsky" on Wednesday. "He's in LA working out. I've seen him there and talked to him on the phone quite a bit. The biggest thing is just looking at the game and the teams that we're going to be playing against and seeing what teams are doing now with the floor spacing and the shooting range and the multiple ball-handlers and playmakers -- it's just going to take defensive versatility, for one thing, to be a good defensive team. 
"So Andrew is going to be asked to guard multiple spots. I've been joking with him that he could be our new four man. If you look around the league and the way teams are playing, it just gets smaller and smaller and smaller. So, I think you probably will see Andrew at the four some, just based on matchups."
Wiggins stands at 6-foot-7, and in the era of small ball, it would make sense if he played up a position from his usual small forward spot at times. He currently is one of the Warriors' four best players, and depending on who they land in the draft, their best five-man lineup could require him to play the four.
In any case, Kerr is looking forward to seeing what Wiggins can do in his first full season with the Warriors -- particularly alongside the Splash Brothers.
"I thought Andrew played really well when he got here in the trade and we're excited about his prospects next year," Kerr continued, "and really excited to get him on the floor with Steph (Curry) and Klay (Thompson). We haven't seen that at all yet, so that'll be exciting."
The Warriors are crossing their fingers that they'll land the No. 1 pick Thursday.
But they already have one regardless, and he'll likely be even more crucial to their immediate ambitions.