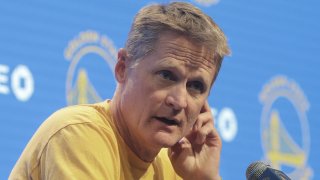 SAN FRANCISCO -- After looking at the draft as a desirable formality over the last five years, the Warriors this season have an entirely different point of view.
It matters. It really, really matters -- and not simply because they're bound for the 2020 lottery.
Though coach Steve Kerr is prohibited from discussing specific players that might be eligible, he made it clear Thursday that he approves of prospects being eligible right out of high school.
"Yeah, I'd be in favor," he said Thursday. "I've changed my mind on that. A few years ago, about seven or eight years ago, I actually wrote a column suggesting that they make the rule two years, staying in college because I felt like players needed more seasoning.
"But the G League can provide that now."
The NBA's stance on this subject, like that of Kerr, has evolved in recent years. With the current fortified structure of the G League -- nearly every team has an affiliate, much like Major League Baseball -- it's all but assured that the February proposal urging the league to lower the draft age from 19 to 18 is coming. It could be in place as soon as 2022.
"There are a bunch of issues that need to be worked through between us and the players association, so it's something we're in active discussions about," commissioner Adam Silver said in May. "It's a few years away, I think."
Many of those players projected as a lottery pick next June are not enrolled in a college. Potential overall No. 1 pick James Wiseman, who briefly attended and played at Memphis, dropped out this week. The center plans to sign with an agent and prepare for the June draft.
LaMelo Ball and R.J. Hampton also projected lottery picks, opted to bypass college and play pro ball in Australia. It's not completely new, as Brandon Jennings took this approach more than a decade ago.
[RELATED: Wiseman, potential Warriors draft target, leaves Memphis]
Executives and players who considered the D League, the G League's precursor, unworthy now tend to see it as a place where talent can be cultivated and prepared for the NBA:
"What the (NBA) has done, what each franchise has done, building their respective G League affiliates, is really impressive," Kerr said. "The whole league understands our responsibility in trying to help these young players develop, on and off the floor. We're getting better with it.
"So, I would like to see players have the option if they wanted to come straight out of high school because we can at least offer them a better path of development."