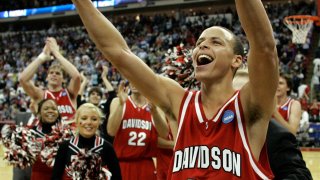 Every so often, someone reminds us that few things in sports resonate more powerfully than discovery. When a brilliant new kid, man or woman, comes along, we turn into gawkers hopping on for every inch of the ride.
Remember young Tiger Woods? We stared at his every move, as if he were a walking fireworks display, and much of the world seemed to dance when the 21-year-old won the 1997 Masters.
How about young Venus and young Serena? Or young Tim Lincecum? Or still-young Patrick Mahomes?
We often make such discoveries in the men's and women's NCAA Tournament, which under normal circumstances would begin this week and dominate conversation throughout March. There would be 16 games Thursday, 16 more Friday, with eight Saturday and eight more Sunday -- followed Monday by a deep breath and return to a resting heart rate.
Twelve years ago, it was the NCAA Tournament that raised the curtain on a skinny kid named Stephen Curry.
Few fans outside North Carolina knew of this sophomore, even fewer had heard of Davidson College, and practically no one outside the state could tell you that the school was, in fact, located in the town of Davidson, about 20 miles north of Charlotte.
And then, in 2008, Curry showed up and showed out.
A 10 seed, Davidson drew No. 7-seeded Gonzaga in the first round. Down 10 with 13:32 remaining, the Wildcats outscored the Bulldogs 34-18 the rest of the way. Curry scored 40 points -- 30 in the second half -- and hit a tie-breaking 3-pointer with a minute left.
Up next was Georgetown, a No. 2 seed. The Wildcats again fell behind, trailing by 16 (48-32) with 15 minutes to play. Enter this Curry kid. He scored 25 points over those final 15 minutes, and Davidson sent the Hoyas home with a 74-70 loss.
With Curry scoring 55 points -- draining 10 triples in the process -- over two comeback second halves against favored opponents, the TV cameras suddenly gravitated toward his smooth, hairless mug like a moth to flame.
On to the Sweet 16, Davidson ran into No. 3 seed Wisconsin. The Badgers were No. 1 in scoring defense, allowing 53 points per game, but the Wildcats found yet another amazing second half, pouring in 37 points and rolling to a 73-56 victory. Curry had 33 in that game, during which an NBA star named LeBron James was sitting courtside.
"It's pretty cool to give him something to be happy about and cheer about, and just entertain him," Curry told reporters afterward.
LeBron, who barely knew of Curry 10 days earlier, had seen the first weekend and quickly became a gawker hopping aboard for the ride.
"I knew he was SPECIAL," LeBron tweeted years later, when the subject of his attendance at that Davidson-Wisconsin game in Detroit came up. "That's why I went to see it up close and personal."
The Wildcats' run, aka Stephen Curry's coming-out party, ended two days later in a 59-57 loss to eventual national champion Kansas. By then the star of the tournament, Curry scored 25 points on 9-of-25 shooting against a dizzying variety of defenses designed to make his night miserable.
[RELATED: How Warriors' NBA draft research is impacted by coronavirus]
There will be no new kid this month. The NCAA Tournament has been canceled, rightfully so, as national and international energies are directed in fighting the coronavirus.
But March Madness is where Curry became a national star in 2008. As a junior, he knew he was on the NBA's radar and left for the draft. He was chosen by the Warriors' general manager/coach tag team of Larry Riley and Don Nelson in the first round, seventh overall.
"I think Steph Curry's the second-best player in the draft [behind Blake Griffin], and I would have picked him No. 2," Riley, in an interview with NBA.com, recalled saying during the rookie's introductory news conference. "And Steph Curry will set out to prove me wrong, that he should have been No. 1."
It's nearly 10 years later, and by now, Curry has proven Riley a thousand ways wrong.