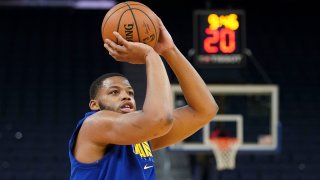 Editor's note: Grant Liffmann (@grantliffmann) is the co-host of Warriors Outsiders, which airs on NBC Sports Bay Area 60 minutes after every game. Each week, Grant will drop his Outsider Observation on the state of the Dubs.
The Warriors have been blessed with two of the best 3-point shooters in NBA history with Steph Curry and Klay Thompson. Their incredible shooting has revolutionized the game in such a way that every player on the court now has to be able to guard all the way out to the 3-point line and beyond. Spacing is now a key piece to offensive strategy, and teams are reliant on multiple deep-threats on the court at any time.
The Warriors, in particular, always are in search of floor spacers, as defenses can key in on Curry and Thompson and shrink the court if teammates do not pose a threat from long range. In today's game, a big man as a 3-point shooter is the ultimate way to space the floor and open up lanes to the hoop.
With that in mind, the Warriors might have discovered a gem in Omari Spellman. 
After trading Damian Jones to the Hawks for Spellman in July, the Warriors immediately began a conditioning program for Omari that finally would get the big man in shape to unlock his potential. Throughout preseason and even the beginning of the regular season, Spellman would show glimpses of his unique skills, but ultimately would lose his touch due to tired legs and would miss his shots short.
He began the season shooting a poor three-for-15 from deep over his first 13 games played. But as his conditioning improved and his comfort level rose, Spellman's 3-point stroke came along for the ride. 
Since Nov. 19, Omari is shooting an incredible 48.4 percent from deep -- good for fourth in the NBA in that span. In the last six games, he has been extraordinary from distance, making 62.5 percent of his 3's while shooting a healthy volume of four attempts per game. He also is now shooting 43 percent from deep on the season (34 of 79), which is good for fourth among big men. 
Comparisons to Marreese Speights have been made, mostly regarding Spellman's physique and willingness to launch. But the truth is, Spellman has surpassed Speights (as a Warrior) already when it comes to long-distance shooting. In his best season with the Warriors, Speights shot 38.7 percent on 62 attempts. Spellman is blowing away those numbers already, and the team is only halfway through the season.
Once Speights joined the Clippers, he began shooting a heavier volume from deep. Speights put up 277 attempts in the 2016-17 season, making them at a respectable 37.2 percent rate. At his current pace, Spellman is trending towards shooting just under 200 3-pointers on the season. Moving forward, if Omari can maintain a percentage around 40 percent -- while shooting over 200 3-point attempts per season -- the Warriors will have struck gold.
[RELATED: Spellman criticizes Warriors' effort after eighth straight loss] 
The big question mark for Spellman will be how he can defend big men in the NBA. Omari has spent most of his basketball career as a power forward, but in today's game, he is probably more suited for a stretch-five role. If he can play adequate defense against opposing centers and use his athleticism to defend the pick-and-roll -- as well as protect the rim -- then not only does Spellman have a nice spot on the Warriors bench in the future, but he also might be a key piece for a team looking to return to title contention.