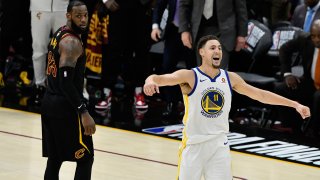 In June 2016, the Warriors became the first team in NBA history to lose the Finals after taking a 3-1 series lead.
About 4.5 months later, LeBron James hosted a Halloween party in Cleveland. The dessert table included two cookies in the shape of tombstones -- one read "Stephen Curry 2015-2016," and the other "Klay Thompson 2015-2016."
The Warriors play in Cleveland on Wednesday night, and Klay Thompson was recently reminded about the troll job by Anthony Slater of The Athletic.
"Oh, yeah. Ha!" Klay said. "That was funny. Look how that turned out. Psssh. Bums. That was crazy. I forgot about that. Well, look at what pettiness gets you. Gets you 1-8 in the Finals. Idiots."
Nothing else needs to be said or typed or explained...
Drew Shiller is the co-host of Warriors Outsiders. Follow him on Twitter @DrewShiller