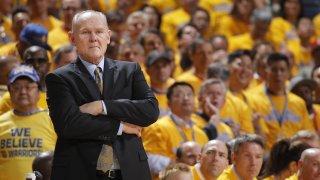 Who said NBA beef has to be between players? A pair of ex-Warriors coaches got in on the fun Thursday.
Well, at least one certainly did.
George Karl, who also coached the Kings from 2014 through '16, didn't like what current ESPN NBA color commentator Mark Jackson, who coached the Warriors from 2011 through '14, said on Thursday night's game between the Los Angeles Lakers and Portland Trail Blazers. Karl's Denver Nuggets and Jackson's Warriors squared off in the 2013 NBA Playoffs, but I wouldn't fault you for thinking that was yesterday based on how the former absolutely unloaded on the latter on Twitter.
Jackson praised Trail Blazers forward Carmelo Anthony's defense during Thursday's broadcast, arguing that the Syracuse product caught a bad rap about his defense earlier in his career and that "there should be a shared responsibility for whoever allowed that defense to be played." Karl coached Anthony for parts of eight seasons with the Denver Nuggets, far longer than anyone else in Anthony's career, and he took the assessment personally.
To answer Karl's questions: Zero, zero (though Draymond Green won the award after the Warriors fired Jackson), zero and zero.
Jackson responded after the game, pulling a Mariah Carey before reminding Karl of their head-to-head record.
Jackson has a history of ... critiquing Karl's coaching. He told reporters during the Warriors-Nuggets series that he had "inside information" that Denver players didn't approve of the team's physical defending on Steph Curry. That fall, after Andre Iguodala joined Golden State in free agency, Karl said there was "no question" Iguodala was Jackson's mole.
Just last month, Karl told The Athletic's Tim Kawakami there was something "fishy" going on in Iguodala's relationship with Jackson.
"The team gradually figured it out that Iggy was kind of favoring Golden State's Jackson," Karl said on "The TK Show." "His comments were a little bit irregular. But Iggy played well in that series. He played very well for us."
Something tells me Karl wouldn't snub this "MJ" if they crossed paths at a restaurant.
Their conversation surely wouldn't just stop at hello, either.