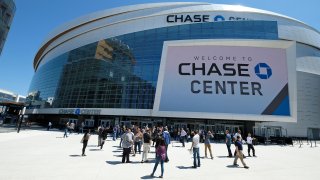 With the coronavirus outbreak growing in the United States, professional sports teams around the country have started taking precautions to protect their fans, staff members and players.
The Warriors are the latest team to issue a statement regarding the outbreak.
In the announcement, the Warriors stated that their game against the Philadelphia 76ers on Saturday will still be played as scheduled.
But the team also announced that it is implementing several additional procedures to protect everyone at Chase Center for upcoming events.
From the Warriors:
-- Cleaning staff have been added to each event and are strictly dedicated for wiping down surfaces, along with using hospital-grade disinfectant spray throughout the arena. 
-- Elevator attendants are equipped with wipe containers and sanitizing elevators regularly. 
-- All areas of the building, including every seat, are being wiped down and disinfected prior to and following each event.  
-- Extra soap is available in all restrooms and hand-sanitizer has been placed throughout the arena. 
-- All doors and door handles are being sanitized regularly.
-- Installed signage and reminders for personal hygiene throughout the arena for all attendees and staff.
[RELATED: How coronavirus led to Randle signing]
The Warriors also advised anyone who is feeling sick, or anyone with preexisting health conditions, to not attend events at Chase Center.
Earlier on Friday, the Giants addressed the outbreak, while the Sharks played their game against the Wild on Thursday night despite recommendations from the Santa Clara County public health department to postpone the game.