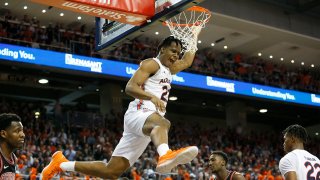 This is the fourth installment of a series breaking down the potential selections for the Warriors with the No. 2 overall pick in the 2020 NBA Draft.
With the NBA officially setting the 2020 NBA Draft for Nov. 18, it's  time for the Warriors to begin gearing up for what could be a huge night for the franchise.
Armed with the No. 2 overall pick, Golden State has options. They can trade the pick and bring in a veteran or two. They can also choose from a smorgasbord of players that will be available following the Minnesota Timberwolves' selection at No. 1.
While he is all over the top 10 in most mock drafts, Auburn's Isaac Okoro is a player that might jump up and steal away a top-three selection. He's a versatile defender with an attitude that coaches love.
Golden State will have options, but Okoro looks like Andre Iguodala 2.0 The Warriors could do much worse and they might even be able to slide down two or three selections and still have a shot. Here is a look at some of the pluses and minuses to Okoro and how he would fit alongside Steph Curry, Klay Thompson and Draymond Green.
Stats
Stats: 12.9 points, 4.4 rebounds, 2.0 assists, .9 steals, 54.1% FG, 28.6% 3-point
Age: 19 Height: 6-foot-6 Weight: 225 Wingspan: 6-foot-8.5
A powerful athlete with a low center of gravity and a solid, but not spectacular wingspan, Okoro can step in and play immediately.
In his lone year at Auburn, he didn't put up big numbers, but his impact on the game goes beyond the typical prospect. His high in scoring was only 23 points and that was the only time he posted 20 or more in 28 games. His high in shot attempts was 13 and he had double-figure shot attempts just nine times.
Early in his career he'll be a defensive specialist, but there is plenty to like about his skill set on both ends of the court.
Strengths
Okoro will walk in and be one of the best defenders on his team from Day 1. At the NBA level, there is potential for him to defend four positions on the floor and he'll only get stronger with age and an NBA training staff.
He averaged .9 steals and .9 blocks, but his on-ball defending is spot on. He has a strong motor and a bulldog mentality. He fights through screens and has really good balance and foot speed.
His perimeter game is still a work in progress, but he is smooth off the dribble and has a soft touch as a slasher with either hand. Okoro plays through contact well and got to the line 4.8 times per game despite limited opportunities in the offense.
While he wasn't asked to handle the ball much at Auburn or act as a distributor, he is a willing passer, has a high basketball IQ and will likely be a far superior offensive threat at the NBA level.
Early in his career he'll act as a cutter and take some catch-and-shoot 3's. He's a player who understands his role and plays to his strengths.
Weaknesses
His shot is suspect, especially from the perimeter. He knocked down just 28.6 percent from long range and 67.2 percent from the free throw line. There is potential for him to improve in this aspect of the game, but counting on him to be an elite shooter anytime soon would be a mistake.
Due to his limited opportunities on the offensive end, most of Okoro's offensive promise is speculatory. He's not a three-level scorer, although he has shown athleticism and some craftiness around the basket.
Like the rest of his offensive game, Okoro has shown flashes as a play maker, but the sample size is small. He posted more than three assists in a game just twice in his lone season at Auburn and he finished the year with a 2.0-to-2.0 assist-to-turnover rate.
Okoro isn't a great rebounder, which is something that he will need to improve on. He posted a 7.8 rebound percent and his offensive rebound percentage of 6.6 percent was just barely off his defensive number of 8.8 percent.
Part of the reason for his low rebounding number came from his focus on the opponent's best player on the defensive end, but he's too good of an athlete and plays way too physical of a game to average just 4.4 per game, especially if he is playing small forward in the NBA.
Fit with Warriors
Golden State won championships with incredible shooters and an irreplaceable Andre Iguodala causing problems for their opponents best players. Okoro might be a similar difference maker to Iguodala at the NBA level.
Adding a player like Okoro would force coach Steve Kerr to shift Andrew Wiggins to the four for longer stretches or possibly even move him for a starting level center or power forward.
While he develops further as a passer and shooter, he could focus his attention on the defensive end where he has the potential to be elite.
In addition to his aggressive style on both ends of the court, where Okoro really fits with the Warriors is in his mentality. This is a game-changer type player that can impact the most important stat in professional sports -- the win column.
Player Comparison
Andre Iguodala, Jaylen Brown