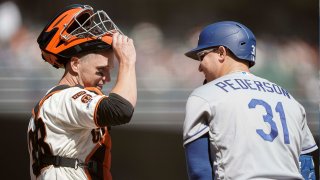 Friday should've marked the Giants' home opener against the rival Los Angeles Dodgers at Oracle Park. The global coronavirus (COVID-19) pandemic pushed it back, as well as the rest of the MLB season, but we've got you covered with the next best thing.
You probably missed broadcasters Duane Kuiper, Mike Krukow and Amy Gutierrez bringing you the sounds of summer, but all three were on the call of NBC Sports Bay Area's simulation of the game in "MLB The Show 20" that aired Friday night. Even if you missed the broadcast, you can now watch the full simulation with Kuip, Kruk and Amy G on commentary on our YouTube page.
The virtual Giants started the 2020 season on the wrong foot, and they returned home to San Francisco in search of their first win. Could they get it in a high-scoring battle with their biggest rivals? Watch to find out, and give Giants Insider Alex Pavlovic's takeaways a read once you do.