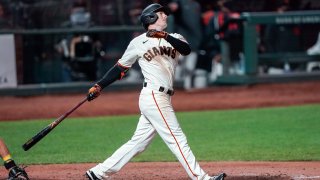 Instead of a sophomore slump, Mike Yastrzemski has turned into a star this season for the Giants. What the late-bloomer showed in 2019 as a rookie was far from a fluke. This is the real deal. 
And Yastrzemski has his eyes on the prize. 
The 30-year-old is a serious NL MVP candidate more than halfway through the regular season, and he has every intention of winning the award. That's exactly what he told his former teammate, Kevin Pillar, who now plays for the Boston Red Sox.
"It was his birthday. Wished him a happy birthday and we talked a little bit back and forth," Pillar told reporters Tuesday, according to Mass Live. "I told him to go win the MVP and he answered very simply with, 'I'm going for it.'
"That's kind of the mindset he has. He believes in himself."
Yastrzemski is batting .293 with seven home runs and 1.022 OPS through 31 games. He leads the majors in runs (29) and the NL in both triples (3) and walks (23). This comes after hitting .272 with 21 homers and an .852 OPS in 107 games last year as a rookie. 
The Giants' star outfielder didn't make his MLB debut until May 25 of last season when he nearly was 29 years old. He spent year after year in the minor leagues with the Baltimore Orioles' organization. Pillar, however, isn't surprised by his former teammate's breakout.
RELATED: Yastrzemski turns into NL MVP candidate with one big change
"I don't think it's something he has developed," Pillar said. "I think it's something that has been there. I think it was just a matter of time for him to get his opportunity to play in the big leagues and fortunately, he got it last year. He's a perfect example of a guy who persevered through so much in the minor leagues and made the lack of respect from some organizations or numbers, or whatever the reason was he wasn't getting the opportunity in the big leagues.
"He finally got it and it's a perfect example of someone taking advantage of an opportunity and running with it."
Yastrzemski certainly has taken advantage of his opportunity. He has the Giants in the playoff hunt, and in the thick of the NL MVP race.