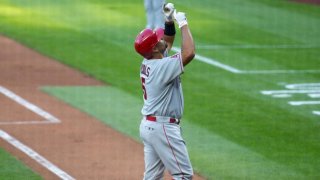 Willie Mays has company on MLB's all-time home run list.
Los Angeles Angels slugger Albert Pujols connected for the 660th homer of his career Sunday at Colorado's Coors Field, moving him into a tie with the Giants legend for fifth place all time.
It took Mays 22 seasons and 2,992 games to reach 660 homers. Pujols is in his 20th MLB season and matched Mays' mark in his 2,854th career game.
No. 5 on the list is likely as far as Pujols will be able to climb, though. While he's under contract through the 2021 MLB season, Alex Rodriguez sits in fourth place at 696 career home runs.
With No. 660 in the books, Pujols needs 36 homers to catch Rodriguez and 40 to reach 700. Both numbers seem out of reach unless Pujols continues to play after the 2021 season. But he will be 42 when the 2022 season opens, and with over $300 million in career earnings, he might not need to keep playing.
Pujols, who spent the first 11 years of his career with the St. Louis Cardinals, has hit 17 of his 660 homers against the Giants. He also has hit 23 career homers against the A's.
Whenever Pujols decides to hang up his cleats, he'll only have to wait five years until he joins Mays as a member of the National Baseball Hall of Fame in Cooperstown, N.Y.