The National League wild-card race could not be much tighter.
After Sunday's slate of games, the Giants remain two games back of the final wild-card spot with a huge two-game series against the Arizona Diamondbacks looming this week.
The Philadelphia Phillies (81-68) comfortably sit in the top wild-card spot with a 3.5-game cushion. The Diamondbacks (79-72) completed a three-game sweep of the Chicago Cubs on Sunday, leapfrogging them in the standings into the No. 2 wild-card spot.
The Cubs (78-72) and Miami Marlins (78-72) are tied for the third and final wild-card position, while the Cincinnati Reds (78-73) are a half-game back and the Giants (76-74) are two games behind.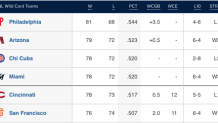 The Giants have 12 games remaining on their regular-season schedule. They will finish out their final road trip with two games in Arizona and four against the Los Angeles Dodgers this week before wrapping up the schedule by hosting the San Diego Padres and the Dodgers for three games apiece at Oracle Park.
San Francisco owns the second-most difficult remaining strength of schedule (.565) in baseball, per Tankathon. Miami (.489), Arizona (.487) and Cincinnati (.479) all have upcoming series against non-playoff teams, while the Cubs (.513) play the Atlanta Braves for three games but also have upcoming series against the lowly Pittsburgh Pirates and Colorado Rockies.
The Giants, Diamondbacks and Cubs will rest Monday while the Marlins begin a series against the New York Mets, and the Reds take on the Minnesota Twins.
Cracking the playoff field is going to be a tough test for the Giants moving forward. Both tilts at Chase Field on Tuesday and Wednesday could be considered must-win games.
If they go 2-0 under the retractable roof in Phoenix this week, the Giants could be controlling their own playoff destiny once again.