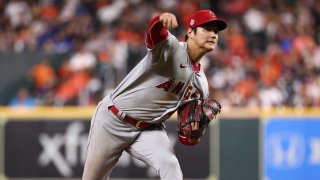 Well, never mind then.
Shohei Ohtani will start for the Los Angeles Angels against the Athletics on Sunday after Oakland was expected to miss the AL MVP candidate during their stay in Southern California.
On Thursday, Angels manager Joe Maddon said the two-way Japanese star would not be pitching in the three-game series after dealing with some soreness in his throwing arm. He added it was nothing serious and said it was just due to the long season, but Ohtani threw a 30-pitch bullpen session Friday.
Before the game, A's manager Bob Melvin said Ohtani was the best in the game at what he does, and was looking forward to not having to face him. Rightfully so.
Ohtani has limited A's bats to just a .154 average and six hits in 47 batters faced this season. 
This could be another tough situation for the A's, who really need all the victories they can get as they battle the Toronto Blue Jays, Boston Red Sox, New York Yankees and Seattle Mariners in the AL Wild Card race.
However, much to the dismay of the A's, the baseball world will get what it wants: More Ohtani.