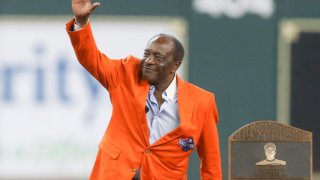 Joe Morgan has spent the past three months watching some of his closest friends leave him. Former Astros teammate Jimmy Wynn on March 26. He was 78. Childhood buddy Ben Modisette three days later. He was 77. Another former Astros teammate, Bob Watson, was 74.
Meanwhile, Morgan, 76, says he's doing little more than lounging about his Danville home, trying to avoid being victimized by the coronavirus (COVID-19) pandemic.
"I'm mostly playing around with the TV remotes," he says.
Morgan considers himself blessed beyond his wildest imagination. Now that he's ready to share his story with NBC Sports Bay Area, you might understand why.
Morgan takes himself seriously. That much is known by anyone familiar with his Hall of Fame baseball career or his TV work as a game analyst. He began studying the sport from the crib, scrutinized every pitch as a player and is stubborn enough to die on the hill of his principles.
He is not, however, ornery enough to avoid medical exams. Particularly at this time in his life. He considers them a logical approach to monitoring health, so he goes in for a checkup several times each year.
That diligence spared Morgan months or years of misery and probably saved his life.
After a trip to his doctor early in 2015, a blood test revealed the presence of Myelodysplastic syndromes (MDS). Morgan had never heard of it. He quickly learned that MDS is a form of bone cancer that would leave him predisposed to leukemia. In his case, the disease was aggressive enough to require a bone marrow transplant. Doctors at UCSF Medical Center placed him on the national registry seeking a donation.
"We didn't start looking for a match right away," he says. "They tried to treat it, but it wasn't going away. They realized the only option that would help was through bone marrow."
Morgan told only a few close friends about his condition but mostly declined to divulge specifics. This was, he felt, a family matter. He talked with his wife, Theresa, and his four daughters: Lisa, Angela, and twins Ashley and Kelly.
Shortly thereafter began the search for a matching donor, a process fraught with uncertainty. Even if a match is found, there is no guarantee of success. Though family members tend to have a better chance to match, there still is only a one-in-three chance of finding a relative who 1) is a match and, 2) is able to donate.
The most likely candidates are siblings from the same biological parents. Joe has four. None was a match. Insofar as his daughters possess only half of his DNA, there was no reason to believe any of them would be a match. So, began the wait.
"My dad was going through his ordeal because they tested his brothers and sisters and nobody was a match," recalls Angela Logan, the second-oldest daughter. "Then, he tells me one day: 'They found a match, but they can't find the person.'
"I was like, 'Oh, no!' I was wondering where that person was."
A high-profile sports figure, Morgan had earned millions and lived a good life. But he wasn't done. He wanted more, so he settled in and waited. There is a long list of individuals on the donation registry, but the only way it would help is if there is a match.
At age 72, Morgan was just shy of the age when increased risk accompanies such transfusions. Being a still-fit former professional athlete worked in his favor. He settled in, clutching his family and clinging to hope.
One day as Morgan waited, Angela called. She was excited. She'd gotten a call informing her that she would be rewarded for a decision she made more than 20 years earlier and, honestly, had forgotten. She'd volunteered to help someone in need, and someone was in dire need.
She had no idea who, but that was trivia. This was about the good deed that not enough people are willing to do. Upon completing her studies at Cal State-Northridge, Angela Morgan, her name at the time, had placed her name on the national donor registry.
She was delighted to be able to help someone, whoever it might be. She also was worried about her father. Would his donor be located? Is he or she still alive?
Within a few days, the registry reached Joe at home. They had no news for him but wondered if he had contact information for his daughter, Angela. Though a bit deflated, Joe took the message and passed it along to Angela.
Angela responded to the message and was asked if she were willing to donate.
"I'm like, 'Of course.' So, they set up a time," she says. "And, honestly, I wasn't thinking about my dad. I don't know why, but I didn't assume anything. Probably because I had been told -- and he told me -- that kids don't normally match their parents.
"So, I still told them I would do it. And one of the reasons was because of what my dad was going through."
A representative from the registry phoned Angela shortly afterward with instructions and the location of the medical office. By then, Angela had another question.
"I asked if we're allowed to know who we're helping," she says. "She told me we were not, that it was confidential.
But then she said, 'the only thing I can tell you is that it's a 72-year-old man with MDS.' And it hit me. I got chills. I immediately thought, 'Oh, my God.' I wondered it if was my dad. I told her that my dad was 72 years old and that he has MDS. She was like, 'Nooo.'"
Which was the exact reaction her Joe had.
"Angela called me and told me she had gotten a call to be a donor for a 72-year-old man in good health otherwise but needs a bone marrow transplant," he recalls. "She said: 'Dad, it has to be you.'
"And we both started crying over the phone."
It wasn't until a few days later that they fully realized how rare it is for a child to match a parent. According to most studies, and also posted on the UCSF website, the chance of a match is roughly one percent.
Once the shock subsided and reality set in, the next few weeks brought a battery of tests to both father and daughter.
Not long after, Angela, then 44, was deemed healthy enough to undergo the procedure. There was a problem with Joe. His condition had regressed.
"He didn't tell me the whole truth about it," Angela recalls, sighing. "So, they had to reschedule. I thought it was just a scheduling issue, but it turns out he had leukemia and we had to wait until that was under control."
Says Joe: "She's right. I didn't tell any of my kids until I had to. They wanted me to tell the whole family, but I didn't want to do it because all they're going to do is worry. I didn't see it as life or death. It was just a process, a few treatments, that I had to go through."
Roughly 10,000 Americans are diagnosed each year with MDS, which is a family of cancers of the bone marrow that interfere with one's ability to manufacture healthy blood cells.
The father-daughter procedure, initially scheduled for April 2016, was postponed indefinitely. Not until October, after all tests were completed and both patients were cleared, was it determined that the best treatment would be a full bone-marrow blood transplant through a process called apheresis.
When the hour arrived, Joe wore a shirt with the word "donee," inscribed, while Angela wore one inscribed "donor." Several hours later -- and considerable discomfort for Angela, who had a tube inserted in her jugular vein -- they were done.
"They said kids don't match," Angela says. "They were wrong. Thankfully."
Now, 44 months later, Father's Day has a new meaning. Joe says he feels great. He copes with a tender knee, but everything else is holding up. After about a week in the hospital, initially followed by weekly checkups, he now drops in every three to four months.
[RELATED: Kerr 'enjoying every second' of recent return to Dad Life]
"They pushed all of my bad blood out, and put Angela's good blood in," he says. "It's like I have 50-year-old blood. It was an amazing situation. I'm blessed. I'm really blessed. I have good kids. Think about it: she didn't sign up to help her dad. She was willing to help anybody.
"But she ended up saving my life."